Whistle to Replace Woman at London's Palace
02/25/2006 - 00:00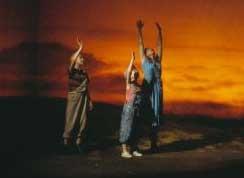 The Woman in White, which is due to make its final performance at London's Palace Theatre Feb. 25, will be replaced by another Andrew Lloyd Webber musical, Whistle Down the Wind.
The production, directed by one of the West End's best-known producing names, Bill Kenwright, starts previews at the Palace on March 15, and it's hoped the musical will fill the gap between the closing of Woman in White and the opening of Spamalot on Oct. 2.
It was confirmed to Playbill.com that Tim Rogers and Claire Marlowe will be making their West End debuts as, respectively, The Man and Swallow in Whistle.
The Jim Steinman(lyrics)/Lloyd Webber musical received its London premiere in 1998 at the Aldwych Theatre, where it ran for two-and-a-half years. The show was first seen in the United States at Washington, D.C.'s National Theatre.
Based on Mary Hayley Bell's novel and Bryan Forbes' 1962 film, the musical's book was written by Patricia Knop, Gale Edwards and Lloyd Webber and relocates the story from rural England to America's Deep South and follows the fortunes of a group of children who believe that a man hiding in a town's barn is Jesus.
The production's London premiere draws on the creative team used on Kenwright's touring version of the musical, with choreography by Henry Metcalfe and design by David Steadman.
Category
Whistle down the wind