Whistle to London
02/25/2006 - 00:00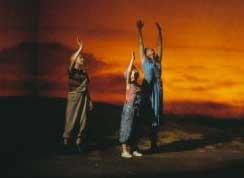 Andrew Lloyd Webber's Whistle Down the Wind will return to the West End for a limited engagement next month. The show is scheduled to run at the Palace Theatre, which will house Spamalot come fall, from March 15 through August 12.
Whistle Down the Wind is based on Mary Hayley Bell's novel and Bryan Forbes' film of the same name. For the musical, the setting has been moved from England to rural Louisiana, but the story is the same. The tale centers on a girl (Claire Marlowe) who find a man (Tim Rogers) hidden in a barn. When asked his name, the first thing the man in the barn utters is "Jesus Christ," so the children believe him to be the savior and decide to hide him until he recovers. Meanwhile, the townspeople are furiously searching for an escaped convict hiding in their midst.
Whistle Down the Wind features music by Lloyd Webber, lyrics by Jim Steinman and a book by Patricia Knop, Gale Edwards and Lloyd Webber. The show, originally directed by Edwards, was previously seen in the West End at the Aldwych Theatre, where it ran from June 22, 1998 through January 6, 2001.
Bill Kenwright, who produced and directed a 2004 U.K. tour of Whistle Down the Wind, will repeat his duties for the West End mounting.
Category
Whistle down the wind