Whiste down the wind return to London
02/23/2006 - 00:00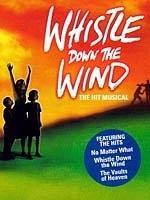 The Woman in White has its final West End performance this Saturday (25 February 2006), but it will soon be replaced by another Andrew Lloyd Webber musical at the Palace Theatre.
Lloyd Webber's 1998 musical Whistle Down the Wind will return to the West End for a limited five-month season, due to run from 15 March to 12 August 2006 (though these dates have not yet been confirmed) and thereby filling the gap at the Palace between The Woman in White's closure and the much-anticipated opening of Monty Python musical Spamalot, which transfers from Broadway in October (See News, 21 Feb 2006).
Following a try-out in Washington DC in 1997, Whistle Down the Wind had its West End premiere in July 1998 at the Aldwych Theatre, where it ran for two-and-a-half years, finally closing on 6 January 2001. In August of that year, director and producer Bill Kenwright launched the show's first UK touring production, which has had regularly stints on the road ever since (See News, 21 Aug 2001). The London season is likely to reunite the tour's creative team, including designer Paul Farnsworth and choreographer Henry Metcalfe.
Whistle Down the Wind is inspired by Mary Hayley Bell's novel and Bryan Forbes' classic 1961 film of the same name, in which three farm children discover a man hiding in a barn and think that he is Jesus. Lloyd Webber and Jim Steinman's stage version moves the action from rural England to the American Deep South.
During its previous West End run, Whistle Down the Wind featured more than 120 youngsters and provided a number one chart hit for boy band Boyzone who recorded the song "No Matter What".
- by Caroline Ansdell
Category
Whistle down the wind