Young Leads Cast in Broadway's Dance of the Vampires
06/23/2002 - 00:00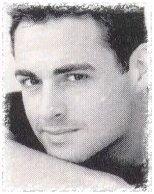 Max von Essen and Mandy Gonzalez have been cast as the young leads of Alfred and Sarah in Jim Steinman's upcoming Broadway production of Dance of the Vampires, according to both actors' agents. The show is set to begin previews at the Minskoff Theatre Oct. 14 and open Nov. 21 starring Michael Crawford.



von Essen made his Broadway debut in the revival of Jesus Christ Superstar , playing an apostle and as understudy to Jesus, often performing the title role. He was previously seen on stage in Off-Broadway's The Fantasticks and currently in the Papermill Playhouse's My Fair Lady. von Essen was in the initial American workshop reading of the show.



Gonzalez made her Broadway debut in Aida understudying the role of Amneris. She received an Obie Award for her turn in Eli's Comin' at Off-Broadway's Vineyard Theatre. No other casting has been confirmed as of yet, but Rene Auberjonois has been offered the role of the absent-minded Professor Abronsius and is currently in negotiations, according to his agent Peter Strain.



Auberjonois has appeared on Broadway in Coco, The Good Doctor, Big River and City of Angels, garnering Tony Award nominations for all and winning for the first.



Crawford will play Count Von Krolock, a role that casting notices say requires a "male, any ethnicity, to play anywhere from 30 to 50 to 425 years old, the show's vampire, the seductive, diabolic, dramatic center of the show." von Essen will play the earnest hero Alfred and Gonzalez will play Sarah, "the breathtaking village girl." Other roles include Herbert, the Count's "gay vampire son"; the absent-minded Professor Abronsius; Chagal, a Jewish innkeeper who's "almost a parody of Tevye from Fiddler on the Roof"; Rebecca, "the large, buffo, unsatisfied, griping village spouse" of the innkeeper; and the "busty lusty" Magda.



Tickets (topping at $95) went on sale May 31 through Ticketmaster. The marquee at the Minskoff has also been put up, replacing the long-gone The Adventures of Tom Sawyer marquee which was not taken down until recently.
Category
Dance of the vampires