Hate at 1st bite
12/13/2002 - 00:00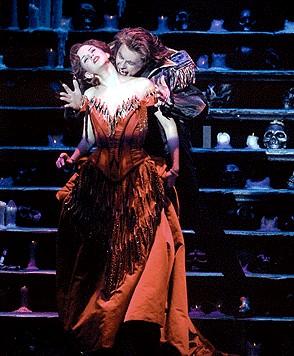 A producer who bought an opera then decided he wanted a musical comedy.
A temperamental star who wrote his own jokes - then cut all of his co-star's.
A choreographer who couldn't choreograph, and a composer who refused to attend his own opening night.
Plenty of people had a hand in the staking of "Dance of the Vampires," the $15 million Broadway musical that opened Monday to some of the worst notices of any show in recent memory.
Producers of the show, which stars Michael Crawford as a long-in-the-tooth neck nibbler, are vowing to fight back with a TV commercial, but the prospects are bleak.
Daily ticket sales of about $60,000 aren't enough to support a weekly overhead of $600,000.
The show will likely drain its $6 million advance in January and then shrivel up and blow away like a vampire caught in the light of day.
"Dance of the Vampires" was put together by talented people.
Jim Steinman, the celebrated rock composer ("Bat Out of Hell"), wrote the score. David Ives, a critics' darling and the author of several popular off-Broadway plays, did the book. And John Rando, Tony Award winner for "Urinetown," directed it.
So what went wrong?
Steinman and others say their big mistake was turning a musical originally conceived as a serious Gothic rock opera into a Mel Brooks-style parody.
The result, as the critics complained, was a show that didn't seem to know what it wanted to be.
"We ended up with two shows at war with each other," says Steinman. "One was sensual and Gothic, the other was camp 'Rocky Horror.' I knew the critics would kill us for that. We were the perfect target, a fat lady with a sign on her back that said, 'Kick me!' "
The operatic "Vampires" opened five years ago in Vienna and is still running.
But David Sonenberg - the original producer of "Vampires" and Steinman's manager for 25 years - believed that the sung-through musical was dead on Broadway and that musical comedies, like "The Producers," were now in vogue.
"David wanted a musical comedy," Steinman says. "We were told to put five jokes on every page."
After failing to raise his share of the money, Sonenberg was thrown overboard (he and Steinman no longer speak) - but not before he secured Crawford, who hasn't appeared on Broadway since his legendary performance in "The Phantom of the Opera," to play Count Von Krolock, the chief vampire.
Crawford, it turned out, also wanted "Vampires" to be a musical comedy.
He complained that Krolock, as originally written, was too much like the Phantom and insisted the character be made comic.
"He is paranoid about doing anything that can be compared to the Phantom," a company member says.
Crawford demanded - and was given - complete creative control over his character.
He affected what he called a "Continental accent" - a bizarre mix of Italian and Cockney - because, he said, it made singing Steinman's rock ballads easier.
He also had a hand in designing his own costumes.
Crawford is, company members say, obsessed with his weight and demanded ruffled collars to hide his jowls.
He looked like a seedy Rum Tug Tugger who'd eaten too many mice.
Behind his back, people were calling him a "fat rooster."
Only after his friend, entertainment mogul Howard Stringer, told him he looked silly did Crawford agree to lose the collars.
Crawford also rewrote most of his dialogue and put in his own jokes.
At one point, bookwriter Ives complained, "I'm not a writer - I'm a stenographer."
Crawford was also rewriting other actors' lines. He did not want his co-star Rene Auberjonois to get laughs, so he insisted that all of his jokes be cut.
This led to battles between the two, with each trying to step on the other's punch lines during performances.
Crawford couldn't be reached for comment, but "Vampires" producer Bob Boyett said: "He is a great star and a total professional. I didn't find him to be difficult at all."
A strong director might have been able to control Crawford but company members say Rando, who had never directed a musical the size of "Vampires," seemed overwhelmed.
His mother died during previews, so he was out for several weeks.
He was not helped by his choreographer, John Carrafa (also of "Urinetown").
Carrafa's idea of staging a big dance number, sources said, was to tell the performers, "Just rock on!"
Steinman, meanwhile, was watching what he later called "a runaway train" and stopped coming to the theater regularly.
He didn't even show up on opening night.
"The show I wrote is not at the Minskoff," he said. "The show that is dear to me is still running in Vienna. The one at the Minskoff was just a job."
At least Steinman and his producers have a sense of humor.
They're taking out ads that call the show "the one new Broadway musical that really sucks."
Category
Dance of the vampires