"Tanz der vampire" goes to Broadway
06/23/2002 - 00:00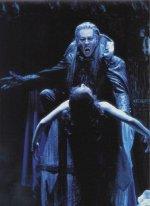 An opening date and a venue has finally been set for the long awaited broadway opening of "Dance of the Vampires".After succesful runs in Vienna,Stuttgart and Tallin, the successful musical will open at the Minskoff Theater on November 21. 2002.Lyrics for the english version will be written by Jim Steinman, who's also the show's composer.
The New York version of the show have been delayed due to original director Roman Polansky's trouble with the law.Efforts to solve these problems have been fruitless and the new produktion will be directed by Steinman and John Caird."Dance of the vampires" will be the first german-language musical ever to go on to Broadway.
There is also talk of a concept album, featuring international artists.
Category
Dance of the vampires