Ron Orbach Joins Cast of Bway's Vampires
07/23/2002 - 00:00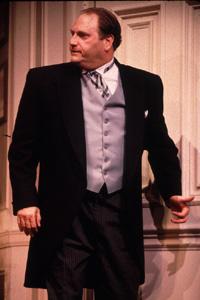 Ron Orbach will get another chance to return to Broadway as he has been cast in the upcoming Broadway musical Dance of the Vampires, as confirmed by the actor's agent. The actor whose injury kept him from coming to The Great White Way in The Producers will take on another character role when the tuner begins previews at the Minskoff Theatre Oct. 14 and open Nov. 21.



Orbach was cast as the Nazi playwright Franz Liebkind. He injured his knee during a rehearsal and consequently missed the previews and opening night of the Mel Brooks musical's run in Chicago. He returned to the production, but was not physically able to stay with the production. His understudy, Brad Oscar, would go on to play the role on Broadway and eventually assume the other role he understudied, Max Bialystock.



Orbach played Ira Stone (ironically, a part based on Mel Brooks) on Broadway in Laughter on the 23rd Floor and then went on to play the lead, Max Prince, in the Chicago premiere, on the national tour and at Seattle's A Contemporary Theater — where he also directed. His Off-Broadway credits include Hotel Suite, Mrs. Dally Has A Lover, Philistines and The Skin of Our Teeth. He will play the role of Chagal, a Jewish innkeeper who is "almost a parody of Tevye from Fiddler on the Roof, as described in a casting notice.



The addition of Orbach fills out the cast which includes Michael Crawford, Rene Auberjonois, Max von Essen and Mandy Gonzalez, Julia Murney and Asa Somers.



Dance director John Rando told Playbill On-Line the show was a "funny scare where you could have a really good time and yet you are spooked." He added that the Broadway production will be "different than it is in Germany. I think the biggest difference is that, in Germany, it's a sung-through piece without any spoken word or just very few. Here in New York, it's going to be a book musical. We've also done a lot of changes in the construction of the play. Jim Steinman has also changed the music in many places."



Category
Dance of the vampires