Preview #8: Carpe Noctem
08/14/2002 - 00:00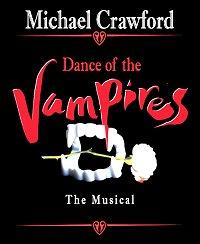 In the last decade or two, there have been a number of successful German-language musicals, a couple of them (notably the smash Elisabeth) faring well in translation in several countries. But not until now has one of them attempted Broadway.



Based on The Fearless Vampire Killers, Roman Polanski's 1967 film mixture of gothic horror and humor, the musical Tanz der Vampire had its premiere at Vienna's Raimund Theater in the fall of 1997, and was a hit, continuing on to its current long run in Stuttgart. Directed by Polanski, Tanz der Vampire had book and lyrics by Michael Kunze (Elisabeth, Mozart!) and music by Jim Steinman, a major pop figure best known for his Bat Out of Hell collaboration with singer Meat Loaf.



But even with its success in Austria and Germany, it's unlikely that Tanz der Vampire would have come to Broadway were it not for two factors. If it followed the film's plot fairly closely and featured some of its combination of laughs with chills, the Vienna show was very much a pop-rock opera and a grandiose spectacle, the sort of thing unlikely to find favor with New York critics who have in recent seasons embraced musical comedy as the antidote to a couple of decades of European operatic imports.



So unlike the fall's other foreign-language import, Amour, Tanz der Vampire is being radically rethought for its Broadway debut. The credits have changed: While Steinman and Kunze still get top billing as creators, Steinman is now separately billed for music and lyrics, with Kunze credited with original German book and lyrics. The Broadway book is by David Ives (best known for his comic plays, and the adapter of several musicals for Encores!, including The Boys from Syracuse), Kunze, and Steinman. Replacing Polanski and original choreographer Dennis Callahan are Urinetown's director John Rando and choreographer John Carrafa. And there's an entirely new design team (David Gallo, Ann Hould-Ward, Ken Billington) in place of the trio that fashioned the elaborate Viennese original.



And it's hardly by chance that comic talents like Ives and those responsible for Urinetown are now involved. Tanz der Vampire's three hours were almost entirely sung and underscored. While many of the big numbers remain, the Broadway Dance of the Vampires will have a good deal of dialogue, much of it said to be tongue-in-cheek. The new version will retain the original plot essentials: Continuing their search for vampires, bumbling Professor Abronsius and his young assistant, Alfred, arrive at the inn of Chagal in Transylvania and are soon forced to do battle with Count Von Krolock for the body and soul of 18-year-old virgin Sarah. But the Broadway production may turn out to be at least partly a send-up of both the horror and pop opera genres, perhaps Phantom of the Opera meets Urinetown.



And of course the reference to Phantom leads us to the other significant factor that has gotten the show to Broadway. Vampires was announced for New York for several years, but not until Michael Crawford signed on to play Von Krolock ---vampire supreme of the village of Lower Belabartokovich-- did the Broadway production become a reality. The title role in Andrew Lloyd Webber's The Phantom of the Opera made Crawford a superstar, leading him to an unexpected new career as a concert and recording name. The first ads for Dance of the Vampires may have led one to expect something akin to a Phantom 2, with Crawford again a ghoulish type preying on a young woman. But while the new show will allow him dramatically grand moments, it will also at times return him to his roots as a comic actor.



Indeed, prior to Phantom, Crawford had appeared in films like The Knack, A Funny Thing Happened on the Way to the Forum, and Hello, Dolly!; had done Black Comedy on Broadway and West End comedies like No Sex Please, We're British and Same Time, Next Year; had a hit English TV comedy series called "Some Mothers Do 'Ave 'Em"; and had done lighter stage musicals like Billy and Barnum. The seriousness he assumed as the Phantom was, in fact, a change of pace, and with Vampires, he could be involved in a show that occasionally spoofs the genre that gave him his greatest success.



Getting Crawford was a coup for the production, as he should provide sufficient box-office appeal to insure a run as long as he appears. Beyond Phantom, Crawford's only recent stage outing was the Las Vegas EFX. He was briefly announced for the role of another satanic seducer, Darryl Van Horne in The Witches of Eastwick, and his presence would likely have helped the box office of that West End production. The title role in Phantom required Crawford's onstage presence for not much more than a half hour, but Vampires should keep him busier.



None of the above is meant to indicate that Dance of the Vampires will no longer sound anything like a pop opera; indeed, the show's humor is likely to reside more in its book and staging than in its music. The half-hour promotional Dance of the Vampires CD (featuring the late Steve Barton, who created the role of Von Krolock in Vienna) makes no attempt to disguise the pop-rock nature of the score, or of its use of an earlier Steinman hit, "Total Eclipse of the Heart." But Steinman has a background in musicals: With Michael Weller, he wrote More Than You Deserve, a 1974 New York Shakespeare Festival/Public Theatre show featuring Meat Loaf. Steinman wrote book, music, and lyrics for Neverland, a 1977 project of Stuart Ostrow's Musical Theatre Lab at the Kennedy Center that led to the Bat Out of Hell album. And Steinman almost made it to Broadway in 1997 with Whistle Down the Wind, for which he wrote the lyrics to Lloyd Webber's music; the pre-Broadway version folded in D.C., and while the show went on to a long run in London, it doesn't appear that Broadway will ever see it.



Joining Crawford in Vampires are Rene Auberjonois as Abronsius; Mandy Gonzalez as Sarah; Max Von Essen as Alfred; Ron Orbach as Chagal; Liz McCartney as his wife, Rebecca; Asa Somers as the Count's gay son, Herbert; and Mark Price as busboy Boris. Robert Evan, who was the alternate for Robert Cuccioli in Frank Wildhorn's Jekyll & Hyde and later took over the role(s), will stand by for Crawford and Auberjonois.



The arrival of Vampires makes one wonder about the local future of Dracula, the Wildhorn-Don Black-Christopher Hampton show that had its world premiere last fall at the La Jolla Playhouse (with The Boys from Syracuse's Tom Hewitt in the title role). This Dracula was announced for Broadway for last season and the current one, but now appears to be postponed. One wonders if New York would welcome another vampire musical, even if the Wildhorn show is based on the classic Bram Stoker story and would appear to be thoroughly serious.



With Crawford in the lead, a hot staging team, a major pop composer, and a substantial transformation for Broadway, Dance of the Vampires is perhaps the season's biggest question mark. With no tryout but several weeks of New York previews (they begin at the Minskoff on October 14, with the opening scheduled for November 21), the show is certain to be the subject of considerable pre-opening conversation.



Category
Dance of the vampires