Meat Loaf's main man set to vamp it up
07/03/2002 - 00:00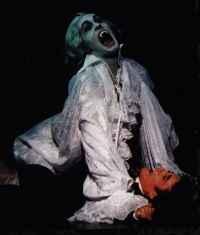 The man who helped make Meat Loaf's Bat Out of Hell one of rock 'n' roll's most enduring epics is getting ready to bring a vampire to Broadway — with a little help from a Tony Award-winning director.



Songwriter/producer Jim Steinman penned music and lyrics and co-wrote the book for Dance of the Vampires, a new musical based on the Roman Polanski film The Fearless Vampire Killers. John Rando, who oversaw the acclaimed Urinetown!, is set to direct a cast led by original Phantom of the Opera star Michael Crawford as Count von Krolock, who terrifies a Transylvanian village while pursuing a young peasant girl named Sarah. The count needs Sarah, Rando explains, "for larger purposes, which have to do with vampires taking over the world."



Rando describes his new project as "a funny scare — thrilling and surprising, and supported by this astounding rock-orchestral score that's truly something Broadway has never heard before."



Dance is set to begin previews in October and open in November at the Minskoff Theatre.
Category
Dance of the vampires