Batty in Manchester
02/20/2017 - 10:13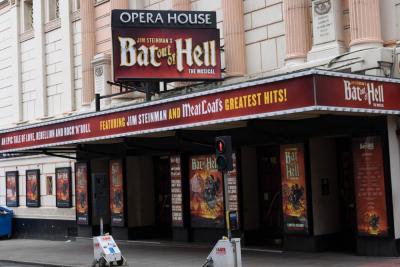 For most people the city of Manchester is synonomous with the 2 famous football teams, but maybe in the future if will also be famous for being the site of the very first public performance of the Bat out of hell musical. Friday the city was the setting for the first af many previews to test out the show before the official London premier in June. It was also host for one of the largest gatheing of Jim Steinman, called Steinfans or Steinmaniacs there were people from Australia, United States, Germany, Austria, Italy, Netherlands, Finland Danmark, Sweden and of course the UK. All of them knowing the songs by heart and all of them had be waiting many years for this moment.
Since Jim Steinman started doing musical theater at Amhearst college in the 60's he has created musicals with different collabarators like Andrew Lloyd Webber (Whistle down the wind), Michael Kunze (Tanz der Vampire), Ray Errol Fox (The confidence man), Michael Weller (More than you deserve) and Michael Reed (Garbo), but for this one it's lyrics, music and book by Jim Steinman, so there's a lot at stake. Will people get Jim's vision ? Judging from audience reaction after the show, it's in the bag, but the intermission-buzz seemed to revieal that people had some difficulty with the futuristic Peter Pan aspect of the story. Maybe people were expecting a standard love story ? Problem is the Jim doesn't write standard love longs and the songs from the Bat out of hell trilogy calls for somthing different and different we are getting. The sets alone is quite sepctacular and according to ITV news it's the biggest production in the UK right now. It's certainly something I have never seem before.
The setting is the city of Obsidian ruled by the tyrranic Falco (Rob Fowler), who doing his best to rid the ride of the city of the gang of misfits called "The Lost" headed by Strat (Andrew Polec) who has his heart set on Falco's daughter Raven and the interest is returned, so we're all set for a classic Romeo and Juliett situation.
Andrew Polec is a great choice for Strat as he really seems to get the wild rebel leader that Jim had invisioned. A bit like I would imagine Jim at that age and he can handle the songs. Christina Bennington sure can sing and her voice is very pretty. At time though maybe a little too pretty. One example would be "For crying out loud", which had been turned into a duet for Strat and Raven. Her part there sounded a bit like a young Kate Bush and even though I love Kate she shouldn't be singing "For crying out". I could use a liitle more attitude in "It's all coming back to m now" as well. Her "Heaven can wait"could not be more beautiful though. If you wanted to colour categorize Jim's music you'd probably call it pretty white, with not many black singers singing these songs. One notable exception being Gina Taylor's performance of "The future just ain't what it used to be". Dom Hartley-Harris and Danielle Steers versions of "2 out of 3 ain't bad" and "Deadringer for love" really added a new soulier dimension to these songs, which I found really enjoyable. Great voices. I also really enjoyed Sharon Sextons performance of "good girls go to heaven", as well as her and Rob Fowlers "What part of my body hurts the most". It's taken over 10 years for this song to find it's home and it was good. Another new song was "Not allowed to love" which Aran Mac Rae did very well in his role as Tink. It was one of the show few true solos.
All in all "Bat out of hell" is a fantastic musical experience from start to finish and I'm certain that, even if the plot confuses some, the endless array of fantastic music will win the audience over in the end. The finale alone is worth the admission. That's doesn't meat that there isn't anithing I would change. For one thing I would not open with "love and death of an american guitar", but instead with some powerful music based on the intro to the title track going into "all reved up". I was never a fan of the "ketchup or blood" intro to "The dream engine" either. I would probably not have turned most songs into duets, like "For crying out loud" especially. There's something to be said for the strong solos of a show and I think this was a missed oportunity. The drums after first verse did not really sit well with me either.
When watching Bat out of Hell, I couldn't help comparing it to Jim's other monster hit "Tanz der Vampire" and one of the biggest differences is the lack of traditional orchestra and instead going the traditional rock'n roll way. It makes perfect sence not to try and copy anything for Tanz since that one's pretty ferfect as it is, even though I'm just a little curous to hear what songs like "I'd do anything for love", "It's all coming back to me now" and "What part of my body hurts the most" would sound like given the Steve Margoshes treatment. One think that struck me with Bat out of Hell, is I think Jim has created one of the most masculine musicals ever. Some fans argued that men in fishnets weren't very masuline, but I still think conpared to popular musicals like Mamma Mia, Phantom of the opera and Beauty and the beast there's a potential to bring in a new crowd here. Being very gender stereotypical one could argue that if there's one show that would be able to get the Manchester men away from Old Trafford and the pubs, this musical might be it    
Category
Bat out of hell - The musical