The Dream Engine, Songs by Jim Steinman
02/01/2006 - 00:00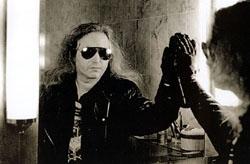 The songs of Jim Steinman, the pop songwriter who also penned the score of Dance of the Vampires, will be celebrated with The Dream Engine, Songs by Jim Steinman at Joe's Pub (425 Lafayette St.) for four shows only: Sunday, February 12th and Monday, February 13th at 9:30 PM, Friday, March 24th at 7 PM and Saturday, March 25 at 9:30 PM.
Steinman, Grammy Award-winning producer as well as songwriter, was the man behind such hits as "Total Eclipse of the Heart," "It's All Coming Back To Me Now," "Making Love Out of Nothing at All," "Holding Out for a Hero," "Paradise By The Dashboard Light," "Anything For Love" and Bat Out Of Hell (a collaborative album with Meat Loaf).
The Dream Engine is a new group created by the songwriter himself and his 21 year co-producer, Steven Rinkoff. "The shows will include new songs and classics from the rock-operatic imagination of Steinman and will feature soaring vocalists Rob Evan, Adrienne Warren, Elaine Caswell, Nicki Richards, Neal Coomer, as well as a special guest artist surrounding the grand piano virtuosity of Steve Margoshes (Lestat, Tommy, Aida, Fame and longtime Steinman collaborator) and a core four-piece band of Alex Skolnick on guitar, Adam Ben-David on keyboards, Matt Zebroski on drums and Nathan Peck on bass," state press notes.
Steinman has produced albums and written hit songs for such artists as Celine Dion, Barbra Streisand, Bonnie Tyler, Meat Loaf, Sisters Of Mercy, Barry Manilow, Air Supply and countless others, selling well over 120 million units.
The Dream Engine, Songs by Jim Steinman will be presented by Steven Rinkoff and Gavin Berger in association with Jim Steinman for Ravenous Group LLC.
Tickets are $25 and are available at The Public Theatre box office, through www.telecharge.com or 212-239-6200. Visit www.joespub.com or www.thedreamengine.com for more information.