Over the top and down again
10/13/2016 - 10:04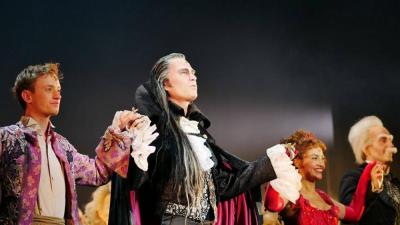 One thing that is synonomous with Jim Steinman is his larger than life productions.As he is quoted for saying "if you dont go over the top, you can't see what's on the other side", but in pop music it may not be for everyone. On the musical stage however it might seem more appropriate, which is probably why Jim didn't hold back when he composed the music for "Tanz der Vampire". The music in the show is constantly like a musical orgasm with Jim trying out all sort of styles in a fast pace. This of course calls for a big orchestra and both the first premier in Vienna in 1997 and the later vienese premier in 2009 had an orchestra around 80 people. In first german production in Stuttgart in 2000 the orchestra had shrunk to 27 members, The US version in Broadway had 24 members and the Polish version had 28 members.
 

In the current Germman tour that I had the pleasure to attend on saturday (and sunday) the orchestra is down to just 14 people, which obviously put a lot pressure on the sound system and the sound at Deutche Theater, Munchen did not hold up. It's a sad thing, especially with music such as Jim's grandious work, that the sound has such a low priority. Of course all productions have to think about the bottom line, but with a guaranteed hit-show like this is, it shouldn't be necesary to go that low. It's not like ticket prices reflect the much smaller orchestra. they cost about the same as Vienna's 80 member spectacle.


The musical will open in Moscow on October 29th and rumour has it that the orchestra will be big, so let's hope Jim's music gets the treatment it deserves.