Jim Steinman recording with Bonnie Tyler again
07/16/2008 - 00:00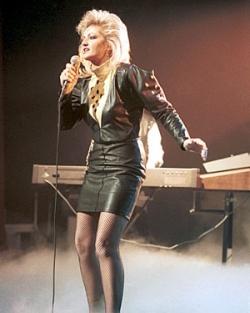 VETERAN rocker Bonnie Tyler has given her verdict on the biggest singing stars of today.
She spoke out about Amy Winehouse's "destructive behaviour" and admitted she is a confirmed fan of Welsh soul diva Duffy.
The gravel-voiced singer's comments come as she has once again joined forces with hit producer Jim Steinman to make a comeback album.
The 57-year-old who is performing in Turkey, also said she was pleased that her anthem Total Eclipse of the Heart has played a starring role in this year's Big Brother competition.
Asked what she thought of today's music scene during an interview with a Turkish magazine, Tyler said: "I am still a big fan of Tina Turner, but currently I feel so excited about the way Duffy sings. She has an excellent voice. She is a Welsh singer, too, and she has beautiful songs.
"Amy Winehouse is a very talented songwriter and singer but I don't understand why she is being so self-destructive."
Tyler revealed that she was once again working with 67-year-old Steinman – who produced her number-one album Faster than the Speed of Night, which included Total Eclipse of the Heart – as she declared she has no intentions of retiring.
The 1983 album made Skewen-born Tyler, who has homes in Mumbles and Portugal, a Guinness World Record holder as the first-ever British female solo artist to have an album enter the UK chart at the top spot. The album generated an instant worldwide hit single, "Total Eclipse of the Heart," written by Steinman, now 67, which reached number one in the UK, France, Australia and the US.
In 2003, Tyler (born Gaynor Hopkins) performed a duet with Kareen Antonn on "Si Demain," a French and English bilingual version of "Total Eclipse of the Heart," and it went to number one in the music charts in France and stayed there for 12 weeks, selling a total of 2m copies across Europe.
The duo have been back in the recording studio and have created four songs for a new album, which is due to be released next year.
Tyler, who was born Gaynor Hopkins, said: "Whenever I sing Total Eclipse of the Heart, the way people sing along with me still excites me. It's one of the songs that audiences know all the lyrics to and they sing along with me and it makes me so happy.
"Many people know that it was written by Jim Steinman, but he also directed the video and it became the top-played video on MTV in the year it was released.
"I know a lot of people chose this song to be played in their weddings – even some of my friends.
"On Big Brother in Britain people in the house competed with each other singing Total Eclipse of the Heart all day long. I feel so happy to see that this song is still so popular.
"I know I express myself best singing love songs, and Jim Steinman gave me my rock style, which I have always wanted. I can express myself best putting a lot of emotion into singing rock songs."
Speaking of her collaboration with Steinman she said: "So far we have recorded only four songs. Jim is a busy man. But I am taking my time because I would like to have very special songs in the end. So it takes time, but it is going to rock."
When asked by the magazine, Today's Zaman, if she had any celebrity friends Tyler replied: "Maybe you will be surprised but Catherine Zeta Jones is my husband's cousin and she is so sweet. I performed at her wedding in New York."
And she revealed that she was diagnosed with nodules on her vocal cords in 1977, which helped to shape her unique voice.
She said: "It may happen to many singers. I was not allowed to talk for six weeks, but I couldn't help myself talking, I couldn't follow the doctor's orders.
"Then I came up with this husky voice of mine. I thought it was the end of my career. About six months later, I was in the studio recording It's a Heartache and everyone in the studio was like 'Oh gosh, you put a lot of emotion into it'."
She added that despite having completed 30 years in the music business she has no intention of retiring.
"Actually, I always wonder whether people know my songs in the different countries I visit," Tyler said. "I still feel nervous over whether they will sing along with me or not."