Hon är Garbos nya mamma
09/12/2002 - 00:00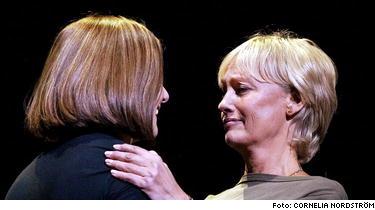 För tre år sedan började planerna för "Garbo – the musical" växa. Om sju dagar har musikalen världspremiär på Oscarsteatern. Producenter från Broadway och New York är inbjudna för att förhoppningsvis föra musikalen vidare ut i världen.

Repetitionerna startade i maj i år. Då spelade Tina Leijonberg Greta Garbos mamma. Men en månad senare hoppade hon av.

– Jag är ensamstående mamma och insåg att jag aldrig skulle träffa min son om jag skulle vara på teatern hela kvällarna. En musikal är inte viktigare än min son, det var inte värt det, säger Tina Leijonberg.

Lars Sjögrell, presschef, hävdar att Tina Leijonberg nobbade rollen när hon insåg hur liten plats den har i föreställningen.



Fick rollen i sommar
Nu får Pia Green ta över rollen som filmstjärnans mamma.

– Jag blev erbjuden rollen just innan midsommar och har bara varit med och övat sedan 5 augusti. Men det är inte någon stor roll så det fungerar med så kort varsel, säger hon.

I går visades ett stycke scen ur "Garbo – the musical" för media. Gunilla Backman, Dan Ekborg och Petra Nielsen stod på scen tillsammans med resten av den stora ensemblen.

– Jag är privilegierad som får jobba med en sådan fantastiskt talangfull ensemble, säger Pia Green.
Category
Garbo the musical