Gunilla gör stark Greta
09/13/2002 - 00:00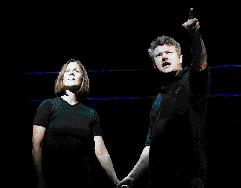 Hon har fått tala med Garbos släktingar, sett film och plöjt böcker. När en vecka återstår till världspremiär gör Gunilla Backlund allt för att hålla nerverna i styr.
- Jag försöker tänka på det jag ska göra, inget annat.

Regissören Scott Faris, som tidigare bland annat satt upp "Chicago" på Oscarsteatern i Stockholm, talar om "Garbo - the musical" som en fantasi mer än en biografisk och verklighetstrogen musikalberättelse. Handlingen tar sin början i 1970-talets New York för att sedan gå tillbaka i tiden.

Gunilla Backlund, som spelar Garbo, känner sig föga gudomlig men desto mer berörd av hennes öde.
- Hon var så ung när hon kom till Amerika och Hollywood. Sedan var hon så stark och stod emot trycket, hon var den första som vågade säga emot filmbolagsdirektören, och till och med strejkade för att få högre lön.

- Hon ville verkligen vara sig själv och gick inte med på myten och imagen.

"Modern musikal"

Enligt Scott Faris och Gunilla Backlund känns Garbomusikalen mer modern än traditionell både musikaliskt och dramaturgiskt och producenten Mikael Hellqvist har hela tiden haft höga ambitioner.

Såväl upphovsmän som regissör är engelskspråkiga. För manus och sångtexter svarar Warner Brown och för musiken Jim Steinman (som gjort Bonnie Tylers "Total eclipse of the heart" och flera av Meat Loafs ballader) tillsammans med Michael Reed.

Tanken har redan från början varit att "Garbo - the musical" ska ta sig till Broadway även om inga klartecken finns före premiären.

- Det finns ett stort intresse bland internationella producenter att komma hit och titta. Alla säger att det finns ett sug efter nya musikaler. Det mesta som sätts upp är ju gammalt, säger Mikael Hellqvist.
"Ett slags förhållande"

Dan Ekborg gör rollen som den svenske stumfilmsregissören och Garbos upptäckare, Mauritz Stiller. Petra Nielsen spelar hennes väninna Mercedes de Acosta.

- De hade definitivt ett slags förhållande och det fanns kärlek i det. Men vi skriver inte publiken på näsan, säger Gunilla Backlund.

/
TT Spektra
Fotnot: "Garbo - the musical" har världspremiär på Oscarsteatern i Stockholm den 18 september. Sångtexterna är översatta till svenska av Py Bäckman och manus av Klas Östergren.
Category
Garbo the musical