Garbo - the musical
11/21/2002 - 00:00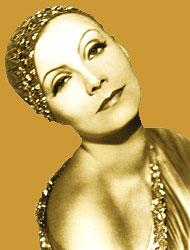 about the life of the late screen idol, Greta Garbo, composed by Michael Reed and Jim Steinman, with a book by Britain's Warner Brown, has been panned in the star's home country of Sweden.
Most of the critics called it mediocre although some of the music, the choreography and the cast were praised.
The problem is in the plot. Critics reviewing the opening night described it as sterile and failing to add anything to the mystery surrounding her life.
The musical is directed by Scott Faris, known for helming the hit-musical Chicago. First written in English with lyrics by Warner Brown Garbo The Musical was then translated into Swedish by Py Backman.
Choreographed by Adam Cooper with assistant Greg Pichery.
The show covers her life from poor shop-girl, forced to work in the barber shop at the age of 14, to star of the silver screen, appearing in 10 silent and 14 sound films including Anna Karenina and Grand Hotel. She moved to the America in 1923, became a citizen, stunned Hollywood by quitting showbusiness at the age of 36, and lived for almost 50 years as a near-recluse in a luxury apartment in Manhattan's East Side. She passed away at age 84 in 1990, and her ashes are buried in Stockholm.
Garbo The Musical begins on a Hollywood set complete with Gladiators in plastic body armor and ladies in Roman togas. Fredrik Lycke stars as director Irving Thalberg. He sets the storyline with a soft shoe routine complete with twirling cane to Two Tales.
Irving G. Thalberg became head of production at the Universal Film Manufacturing Co. at the age of 20 and three years later vice president and head of production for Louis B. Mayer, personally supervising the studio's top productions. Thalberg was given full authority to choose scripts, revise them, and have final cut on any film. Thalberg is largely credited for establishing MGM as the literary studio, and supported the studio system that kept a stable of actors, directors, writers, and producers working together to produce films. Thalberg died of pneumonia in 1936 at the age of 37.
Garbo being manipulated by the Hollywood studio system is staged in Garbo The Musical as a living chess match. With the cast dressed as chess pieces in Power Play the conflict between Garbo, played by Gunilla Backman, and studio mogul Louis B. Mayer, portrayed by Fred Johanson, are plotted, moved and check mated.
Garbo had many affairs including those with John Gilbert, Mauritz Stiller, Leopold Stokowsky and director Rouben Mamoulien, but she never married. She was always torn between loyalty to her friends, ambition and a desire for privacy. When Garbo decided to quit Hollywood her writer friend Mercedes de Acosta, acted by Petra Nielson, attempted to convince her to remain, while the photographer Cecil Beaton, portrayed by Daniel Engman, offers to marry her promising to take her away from her troubles.
This is brought to life on stage in The Wild Side. The ladies representing Garbo are matador drama costumed in beaded bolero waistcoats and black pants. The men representing Beaton are in white suits button holed with pink carnations.
The world premier of Garbo The Musical began September 18th in Oscarsteatern in Stockholm.
This Swedish production had little momentum going in and perhaps would have been better mounted in English in another country. While Garbo was idolized as an actress in Sweden she was also resented as a person. She constantly criticized the Swedish press, and once she moved to American only returned to Sweden as cremated remains.
Producer Mikael Hellqvist and his group hope to take their production to London's West End and then to Broadway.
Category
Garbo the musical