Garbo musical bores critics
09/22/2002 - 00:00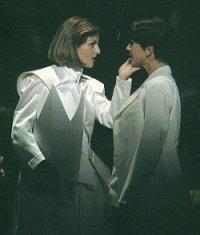 A musical about the life of the late screen idol Greta Garbo has been panned by critics as mediocre after it opened in her native Sweden.
The producers of Garbo - the Musical are hoping the show will become a hit around the world, emulating the success of shows like Mamma Mia, based on the songs of 70s supergroup Abba, and Buddy, a musical about the life of rock and roll icon Buddy Holly.


But critics reviewing the opening night described it as sterile and failing to add anything to the mystery surrounding her life.




The musical covers the life of the enigmatic screen siren from her younger days in Sweden to her rise to the top of the Hollywood ladder, before focusing on her retreat into seclusion.




Ragtime
"Very professional, but predictable and not exciting," said Per Feltzin, music critic on Sweden's SR radio.




The script was written by Britain's Warner Brown, known for musicals such as Flickers and Scandal.


It is composed by Michael Reed and Jim Steinman, who has worked with Meatloaf and Boyzone, with music varying from ragtime to rock.




But critics felt there were very few songs which stood out.


Marcus Boldeman, of Sweden's biggest daily Dagens Nyheter, said the musical was conventional and had some "dramaturgical problems".


The musical's producers are hoping to take their production abroad in spring 2004, aiming to find audiences in London's West End and on Broadway in New York.




But some critics expressed a doubt that there would be global appetite for it.
"I would be surprised if it goes on for a long time even here. But that might happen if the interest in Garbo is bigger than the demand for good musicals," said Tony Lundman, music critic at daily Svenska Dagbladet.


The reclusive star died aged 84 in 1990, and her ashes are buried in Stockholm.


Garbo rose to fame after starting her working life in a barber's shop at 14.


She appeared in 10 silent and 14 sound films including Anna Karenina and Grand Hotel, and moved to the US in 1923, becoming an American citizen.


She stunned Hollywood by quitting public life at the age of 36, living for almost 50 years as a near-recluse in a luxury apartment in Manhattan's East Side.


She never went back to Sweden again after 1975, saying she feared being pestered by the press.


Category
Garbo the musical