Batman-the musical
09/04/2002 - 00:00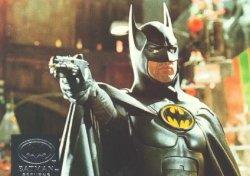 Tim Burton is set to take the directing reigns on the latest Batman. But this isn't the next movie in the franchise. It's "Batman: The Musical" an off-Broadway musical that the quirky director is keen to take on according to the NY Post.
Warner Bros. has been courting Burton for the job for over a year. Composer Jim Steinman will be working up the music for the show.
"We're thrilled he's going to do it. [Writer] David [Ives] and I floundered around for a year trying to figure out how to musicalize Batman. Then we looked at Tim's original movie and thought, that's it," Steinman told the NY Post. He also said that Burton "has already got a list of 20 designers from all over the world he wants to talk to about the production."
Apparently the director is eager to reestablish his dark vision for the franchise. The show is set to launch off-Broadway in 2004 and arrive on Broadway in 2005. The show will feature Batman, Robin, The Joker and Catwoman.
Steinman, described his "Batman" score as a mixture of "Brecht, Weill, Rodgers & Hammerstein and rock 'n' roll."
Category
Batman the musical