Director bringing rare 'Confidence'
11/07/2004 - 00:00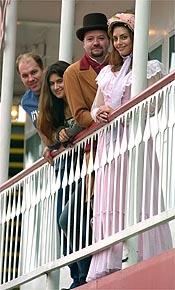 What do rocker Meat Loaf, 19th century literary giant Herman Melville and Beechmont Players director James Updike have in common?
The point that links this unlikely trio is composer Jim Steinman. Long before he turned to pop music and wrote the star-making Bat Out of Hell for Meat Loaf, Steinman wrote largely unsung musicals.
One of them was loosely based on a Herman Melville novel - not Moby Dick but The Confidence Man, a sort of existential trip on a Mississippi riverboat.
Which brings us to serious Steinman fan Updike, whose rare production of The Confidence Man by Beechmont Players continues through this weekend on the University of Cincinnati Clermont College campus in Batavia.
Updike discovered Steinman as a teenager in the '80s, when he'd faithfully travel downtown every weekend for a screening of The Rocky Horror Picture Show.
"Meat Loaf was one of the stars and I realized Jim Steinman wrote all these wonderful songs."
Updike investigated further, digging through the canon of Air Supply and Barry Manilow and beyond. He found Steinman recordings from Japan to Norway - before eBay made it easy. And Updike discovered his musical ambitions.
Over the next decade, Updike graduated from high school to community theater. He tracked down audio and video recordings to things such as The Dream Engine from Steinman's college years and projects from the early '70s such as More Than You Deserve and Neverland.
In the late 1990s, about the time he was starting his own Steinman fan Web site ("I got an e-mail once from someone claiming to be him, but I'm suspicious"), he wanted to direct a Steinman work.
As much as he likes Steinman, Updike is a sort of Indiana Jones of lost musicals. While he was on the hunt he also managed to track down a college show by South Park guys Matt Stone and Trey Parker and gave Cincinnati the regional premiere of Cannibal: The Musical three years ago.
Updike had his fingers crossed for Steinman's recent Dance of the Vampyres (which worked in Europe, but was re-written for and tanked on Broadway), "but there were no rights available."
Of course that didn't deter him.
Which brings us to The Confidence Man. Updike explains happily, "It's the eve of the Civil War and the title character takes on many guises to test people's faith in humanity. It's allegorical, because that's what Melville does. It has big questions, like 'What brought on the Civil War?' "
Musically, Updike says, "The show is wonderful. It's folk music with some echoes of rock and hints of bluegrass."
Steinman wrote it with Ray Errol Fox, "but in the middle of working on it Steinman went to a Bruce Springsteen concert and found a new passion," says Updike, and that was the end of the musical theater career.
The good news is the show's rights were held by Fox who was delighted to give Updike and Beechmont the opportunity to remount what Updike feels is a lost treasure. Fox is so delighted he's coming to see it this weekend to ponder whether there's potential for a larger revival.
Updike is co-directing with his wife Sarah and they are already considering their next collaboration. Steinman music was, by the way, incorporated into their 2002 wedding.
Updike has just unearthed another lost treasure and submitted it to Beechmont Players for consideration - a musical version of The Night of the Living Dead.
Category
The Confidence Man