Steinman's "Confidence Man" CD OUT NOW!
08/12/2003 - 00:00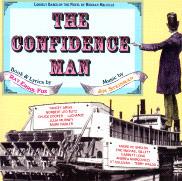 The show is now for the first time ever available on CD. The CD has been put together by a small independet US label, Original Cast Records.
The studio cast features: Yancy Arias, Mark Nadler, Andrea Marcovicci, Norbert Leo Butz, Chuck Cooper, LaChanze, Julia Murney, Andre De Shields, Eric Michael Gillet, Garret Long, KT Sullivan and Terry Waldo.
The CD can be obtained through www.footlight.com in New York.
TRACKLISTING:
1) New Orleans Is Coming To Me - Norbert Leo Butz, Yancey Arias, Jamison
Stern and chorus
2) Pitch Penny - Andre De Shields
3) Such Heaps of Fine Friends - Mark Nadler, Terry Waldo
4) Edging Into Darkness - Julia Murney
5) Methinks - Eric Michael Gillett
6) Confidence - Mark Nadler
7) Nocturnally Yours - LaChanze
8) Pain Humbles - Norbert Leo Butz
9) A Maiden Is Only as Maiden As She Feels - Garrett Long
10) Give Us This Day Our Daily Flesh (Fox/Blume) - Chuck Cooper
11) Sanctimonious Sambo - Terry Waldo
12) Milady - Yancey Arias
13) A Soft-Handed Gentleman - Andrea Marcovicci and KT Sullivan
14) Something of This Masquerade May Follow - Chorus
Category
The Confidence Man