Opera Babes Debut CD
06/23/2002 - 00:00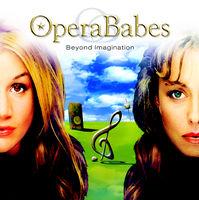 It is the culmination of an extraordinary year for Karen England and Rebecca Knight. In the spring of 2001, the two were scraping a living from their pitch in the Piazza at Covent Garden – alongside the assorted jugglers, mimes and poets. Their beautiful renditions of the Flower Duet from 'Lakme' and the Barcarolle from 'The Tales of Hoffmann' would draw crowds and bring in a few quid. Now, twelve months later, OperaBabes are about to extend their audience far beyond Covent Gardens' tourists and shoppers. Their debut album is a collection of popular arias and songs with enormous global appeal.


In recent years, opera has become a part of everyday life, whether through television advertising, the proliferation of classical radio listeners or simply through the establishment of personalities such as Charlotte Church and Russell Watson or opera superstars such as The Three Tenors. Opera has lost its elitist reputation and these artists, along with efforts by both the English National Opera and the Royal Opera House in Covent Garden as well as the many successful regional opera companies in the UK, have helped to make the operatic world a more inclusive one. 'OperaBabes' is a natural extension of this process of accessibility but without compromising the quality or talent on display. Whether Karen or Rebecca are bringing their own musical feel to, for example, 'Lakme'; writing a lyric to a work which is originally instrumental, as with 'There's A Place', or merely giving a faithful rendition of a well-known aria, they always do so with one foot firmly in the tradition of great operatic performance.



Both Karen (28) and Rebecca (32) are classically trained. Rebecca's mother is the renowned opera singer Gillian Knight and although she originally didn't want to follow in such esteemed footsteps, Rebecca found that she had inherited a remarkable talent. Trained by both Gillian and the acclaimed soprano Lillian Watson, Rebecca quickly became a much sought-after soprano herself. Karen, meanwhile, was a member of the National Youth Choir of Great Britain and later studied English and Music at Leeds University before a post-graduate course at the Guildhall school of Music and Drama. The two met on tour in Cambridge where they were both performing in Mozart's 'The Magic Flute' and quickly formed a close friendship. Busking in Covent Garden was an idea which came to Karen while shopping there one day and soon the duo were a regular fixture.



In Spring 2001, Rebecca and Karen were noticed by a talent-spotter from an events management company who invited them to lead the singing of 'Abide With Me' at the F.A. Cup Final. The girls were a huge success and were immediately booked on their first foreign assignment – the Champions League Final in Milan where they performed the 'Flower Duet' from 'Lakme', Karen's mezzo-soprano wonderfully complementing Rebecca's soprano. Record company interest in the girls was intense, but they eventually signed to Sony Music and began work on their debut album, taking the odd day out of recording for very special appearances – notably in the presence of Her Majesty the Queen at last year's poignant Festival of Remembrance Concert at the Royal Albert Hall.



For that prestigious performance, OperaBabes chose 'There's A Place', the first song on their album, with lyrics written by Rebecca to fit music from Dvorak's New World Symphony (the Hovis ad for most of us!) – the words complementing and developing the composer's original themes of hope and opportunity. It is followed on the record by 'Lakme H2O' (British Airways!), a version of the duet which was always a favourite back in Covent Garden Piazza – another more modern variation appears later in the album.



'Beyond Imagination' is a modernisation, with lyric, of Mendlessohn's 'Nocturne No.1' while 'Ebben? Ne Andro Lontana' is another well-known aria, despite being from the rarely performed opera, 'La Wally' by nineteenth century Italian composer Catalani. 'Ebben?…' is a soaring masterpiece and one of the most traditional operatic interpretations on the album.



It is followed by the massive choral monolith 'O Fortuna' from Carmina Burana by Carl Orff (familiar to many as the Old Spice ad) where Karen's mezzo and Rebecca's soprano are supported magnificently by full orchestra and choir arranged by Anne Dudley. 'You Live On In My Heart' is derived from Ennio Morricone's score to 'Cinema Paradiso', 'Sempre Ricordo' is an arrangement of a Grieg Piano Concerto with lyrics by Rebecca and 'Recuerda Me' is a gorgeous aria originally written by Phil Coulter.



'Chanson Boheme' is the Gypsy Song from Bizet's 'Carmen' and is as well known and loved as any piece of music in opera – a celebratory romp of a song. Another perennial favourite, 'Ave Maria' slows the mood beautifully before yet another giant flourish with 'Ode II Joy' taken from the climax to Beethoven's 9th symphony. 'Stranger In Paradise', again arranged by Anne Dudley, takes the mood from Teutonic to Russian – it is based on one of Borodin's Polotsvian Dances from the popular unfinished opera 'Prince Igor'.



Based on the intoxicating music from the 'Nutcracker Suite' by Tchaikovsky, '1001 Nights' is a vocal rich in mystery and intrigue, while the gentle drinking song from Offenbach's 'The Tales of Hoffmann' - known as the Barcarolle – is transformed into a wistful, mellow ballad. 'Vittoria', produced by the legendary Jim Steinman and based, of course, on the triumphal march in Verdi's 'Aida' is a suitably swooping finale before the concluding mix of 'Lakme'.



The songs which Rebecca and Karen have chosen for their debut collection represent a variety of styles from the classic opera of Bizet and Verdi, through the originally instrumental compositions of Dvorak and Tchaikovsky through to 20th century works by Morricone and Carl Orff. In each case, however, OperaBabes have made the songs their own and given each a modern twist while maintaining the operatic tradition.