Meat Loaf:"Bat 3 is coming"
04/15/2003 - 00:00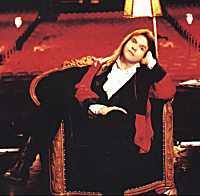 That's the exiting news that has Meat Loaf extensing his musiccareer.The new album "Couldn't have said it better myfelf", that's been released in May, should have been the last.
The singer with the classic rockoperavoice had lost the spark and was planing on focussing on his moviecareer.
But then Jim Steinman called, the man who wrote the songs for "Bat out of Hell" the 70's classic, which has sold in over 30 millon copies.
-We are going to do "Bat out of hell III", but we haven't begun recording yet, Meat Loaf said when visiting Sweden.
After the success the 2 had some trouble repeating the success and had huge rows that ended in court, which broke up their partnership.They reunited in the early 90's and succeeded against all odds to make a successor that became an almost as big as the first.
Since then Meat Loaf have been concentrating on his movierolls, that includes, "Spice world" and "Fight club", but once again it's the music that's in focus.And Meat Loaf has barely recorded his first new record in 8 years, before he moves on to the dreamproject "Bat out of hell III"
-I have no idea what's it's going to be like.It's like asking me what I'm gonna do in 15 minutes, yells the huge Meat Loaf
Interviever:I didn't think you and Jim Steinman got along ?
Jim and I have no problems.I love Jim Steinman ! We make good stuff together and I'd be a fool if I didn't continue to do so.We are going to do "Bat out of hell 3-the last of bat",said Meat Loaf
But there's not going to be a tour after that record.This fall Meat doing his last turn.The body can't handle it anymore.Meat Loaf is 50 (the reports about his birth date varies from 1946 to 1950) and he has carried exessive weight which has been hard on the body.
-I'm young in my mind,the heart and the brain, but my knees don't know.And my feet doesn't have a clue.
Meat has always combimed his music with his acting.He did rockopera and musicals in the 70's and at the same time performed in rock clubs.In the last couple of years he has done more movies.He's almost a shame of some them, but it's a learningproces.
- I did a lot of movies to teach me how to work with characters.And "Fight club" I made to get to work with Brad Pitt and Ed Norton.
-But I don't do a movie because there's big names in it. I turned down "The Patriot" with Mel Gibson because I didn't like the part.
Spice World then ?
Oh I got that because I claimed they couldn't do it without me.I was kidding, but they begged me to do it, so I did.
According to Meat Loaf the acting has made him a better artist og sais in his usual confident way that "Couldn't have said it better myself" is his best record in 25 years.
-That's because I have made 24 movies in 7 years and I have learned from it.I have learned to focus better and use my voice to variate my performance more
Mikael Forsell
Translated from Swedish