Meat Loaf ska göra "Bat out of hell III"
04/15/2003 - 00:00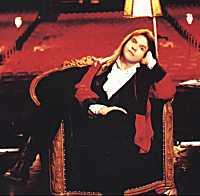 Det är den spännande nyheten som fått Meat Loaf att förlänga sin skivkarriär. För egentligen skulle albumet "Couldn't have said it better", som kommer ut i maj, ha varit det sista.
Sångaren med den klassiska rockoperarösten saknade nämligen den tändande gnistan och funderade på att ägna sig helt åt sin blomstrande filmkarriär.
Men så ringde Jim Steinman, mannen som skrev låtarna på albumet "Bat out of hell", 70-talsklassikern som sålts i över i 30 miljoner exemplar.
- Vi ska göra "Bat out of hell III", men vi har inte börjat spela in än, säger Meat Loaf på Sverigebesök.
Efter "Bat out of hell" fick paret svårt att följa upp succén och hade en del konflikter som slutade med stämningar, vilket bröt deras samarbete. De återförenades emellertid i början av 90-talet och lyckades mot alla odds göra en uppföljare, som blev en nästan lika stor succé.
Sedan dess har Meat Loaf koncentrerat sig på filmroller, i bland annat "Spice world" och "Fight club". Men nu är det musiken som gäller. Och Meat Loaf har knappt hunnit spela in sin första skiva på åtta år förrän han alltså är i gång med drömprojektet "Bat out of hell III".
- Jag har ingen aning om hur det blir. Det är som att fråga vad jag ska göra om 15 minuter. Jag vet inte, bullrar den store Meat Loaf.
Men jag trodde du och Jim Steinman inte riktigt kom överens?
- Jim och jag har inga problem! Jag älskar Jim Steinman! Vi gör otroligt bra saker tillsammans och jag vore dum om jag inte fortsatte att göra bra saker ihop med honom. Vi ska göra "Bat out of hell III - the lasted bat", säger Meat Loaf.
Men det blir förmodligen ingen turné efter den skivan. I höst gör Meat Loaf sin sista vända.
Kroppen säger ifrån. Meat Loaf är drygt 50 år (uppgifterna om födelseåret varierar från 1946 till 1951) och har burit på en rejäl övervikt som slitit hårt på kroppen.
- Jag är ung i sinnet, hjärtat och skallen, men mitt knä vet inte om det. Och min fot förstår inte alls vad det handlar om.
Meat Loaf har alltid kombinerat sin artistkarriär med skådespeleri. Han gjorde rockopera och musikaler på 70-talet samtidigt som han sjöng på rockklubbar. Men på senare år har det blivit mer filmer. Många av dem skäms han nästan för, men det är en läroprocess.
- Jag gjorde många filmer för att lära mig arbeta med rollfigurer. Och "Fight club" gjorde jag förstås för att få jobba med Ed Norton och Brad Pitt.
- Men jag gör inte bara en film om det är kända namn med. Jag tackade nej till "Patrioten" med Mel Gibson för att jag inte gillade rollen.
Spice Girls-filmen "Spice world", då?
- Äh, den fick jag för att jag skrek åt dem att de inte kunde göra den utan mig. Jag skämtade förstås, men de bönade och bad så efter att de tjatat gjorde jag den.
Meat Loaf menar att filmandet har gjort honom till en bättre artist och säger på sedvanligt självsäkert sätt att "Couldn't have said it better" är hans bästa skiva på 25 år.
- Det beror på att jag har gjort 24 filmer på sju år och lärt mig någonting av det. Jag har lärt mig att fokusera mig bättre och använda rösten bättre och variera mitt artisteri mer. TT Spektra
Mikael Forsell