Meat Loaf planning "Bat Out of Hell III"
08/31/2005 - 00:00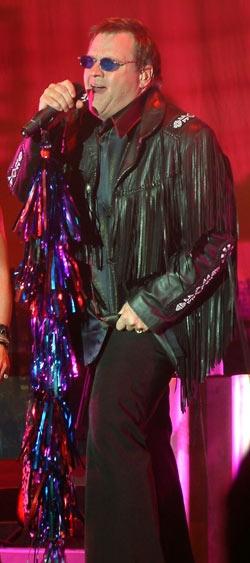 If a hair of the dog that has bit you is believed to remedy the bite, then a taste of a drink from the night before should surely cure a hangover. At least that's what Meat Loaf believes. The legendary rock-opera singer, whose 1977 collaboration "Bat Out of Hell" sold 30 million copies, is at it again, titling his latest tour Hair of the Dog.
For Meat, the metaphorical hangover comes from his shows, but the hair of the dog comes from another tour stop. And that's no surprise, considering the rocker/actor/Broadway star never stops working or seeking to outdo his last performance.
The singer, born Marvin Lee Aday, was coined the nickname Meat Loaf by his abusive and alcoholic father. After the death of his mother to cancer, Meat Loaf left his Dallas home and never looked back.
"It may have made me stronger because I was forced to be on my own when I was not very old-18," said Meat during a recent teleconference. "My mother was dead and I really wasn't talking to my father and I really - I didn't have any brothers and sisters - so I was basically on my own and I had to survive how I had to survive. And I did. And I'm still here, so, you know that, if anything, it put me on the street and made me strong.
"But I never used it as a crutch, never-because you can't do that. Anybody that does that is wrong, because you have to take responsibility for your own actions. You can't blame everybody around you."
Meat Loaf began his musical career opening for acts such as The Who, Joe Cocker, and Iggy Pop. His big break came in 1974 when he met his right-hand man Jim Steinman while auditioning for the off-Broadway musical "More Than You Deserve." In 1977 the two collaborated on the 1977 masterpiece "Bat Out of Hell," an album which made the Guinness Book of World Records as the longest-charting album in British pop music history as well as hitting number three on the list of pop music's all-time best selling albums.
Singles such as "Two Out of Three Ain't Bad," "Took the Words Right Out of my Mouth," and the wedding/prom hit "Paradise by the Dashboard Light" made Meat Loaf a household name.
In 1993 Meat Loaf released the sequel "Bat Out of Hell II" which earned him a Grammy and an accolade for the best rock vocal from the single "I Would Do Anything for Love."
Currently, Meat Loaf is again working on writing with Steinman for "Bat Out of Hell III" and anticipating the 30th anniversary of the debut of "Bat Out of Hell." Although Meat Loaf knows his own sound, he has trouble explaining how "Bat Out of Hell III" will be different from I and II.
"I don't know what it sounds like because ... "Bat Out of Hell" was produced by Todd Rundgren, he's completely out of his mind. "Bat Out of Hell II " was produced by Jim Steinman, he is completely insane. Michael Beinhorn is as odd as the other two, and he's doing III, so I have no idea."
Meat Loaf's true passion is the stage, and, before he considers himself "an actor who sings" and not a singer who acts.
He's starred in a number of hit films including "The 51st State," "Crazy in Alabama," "Fight Club," and was even sought after by Milos Forman to play the role that later went to Jack Nicholson in "One Flew Over the Cuckoo's Nest." His favorite role, however, was starring in the movie "Focus," written by the late-playwright Arthur Miller.
"He was actually on the set É it was just per chance that he came the day that I'm shooting the big scene that I had, and it was like, you talk about being nervous, here's Arthur Miller and you're up.
"So here's Arthur Miller watching me, you know, do my thing for like 4 1/2 hours. It was very cool, but that was the most difficult piece I've ever done and actually, I think the most rewarding."