Meat Loaf: It's my 'Bat Out of Hell'
06/06/2006 - 00:00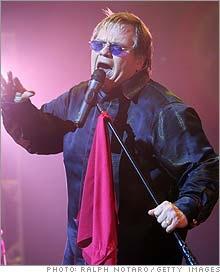 NEW YORK (CNNMoney.com) - Known for such hits as "Paradise by the Dashboard Light," the singer Meat Loaf is suing his former songwriting partner for trying to claim the rights to the phrase "Bat Out of Hell," the title to his hit album series, according to his attorney.
Attorney Skip Miller said the suit, filed Monday in Federal Court in Los Angeles, charges that songwriter Jim Steinman unfairly filed for a patent for the phrase in 1995, even though the singer had used it extensively since the first "Bat Out of Hell" album was released in 1977.
The singer Meat Loaf
The announcement of the suit comes just as the singer is preparing to release his third album of the series "Bat Out of Hell III: The Monster is Loose."
"The law protects the user of the mark and here there is only one user: Meat Loaf," Miller said in a statement. "We were forced to file suit to uphold these rights."
"That's ridiculous," Steinman told CNN in a telephone interview. "The trademark in America is one I own."
He said he came up with the phrase, wrote the song sung by Meat Loaf that included it and came up with the idea of the trilogy.
"I own the trademark 'bat out of hell,' " said Steinman, who charged that Meat Loaf was "doing the 'bat out of hell' without me and marketing it illegally."
He added, "To me, it's like Frances Coppola being fired before Godfather III and being replaced by some hack."
"I'd be willing, if he wanted, to let him use it for the record, even though I think it is insulting to the audience. But he's turned down the settlement every time."
Steinman said his settlement offer was a simple one: "That he leaves me alone, and I leave him alone."
The first two "Bat Out of Hell" albums, which were released in 1977 and 1993 respectively, posted combined sales of 52 million albums worldwide, according to Miller.