Is Meat Loaf just a great big ham?
11/07/2004 - 00:00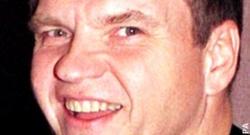 Inside the garage of Meat Loaf's California home there is a photograph of him lying comatose on stage surrounded by paramedics, part of a framed front page from a tabloid that bears the legend "Rock Star Collapses". The picture was taken in Australia during his '70s heyday, when his chronic asthma often required him to be treated with oxygen post-show. The irony is that Meat Loaf's last tour, billed as his last, nearly did kill him.
Meat Loaf: 'I never relate to Winnie the Pooh because I'm not crazy about bees and honey and all that stuff'
In an incident that made the news worldwide, he collapsed on stage at Wembley mid-song in November 2003 and underwent emergency heart surgery later that night to correct a previously undiagnosed arrhythmia. Doctors told him he was lucky to be alive.
"I remember exactly what happened," he recalls. "I passed out, gone. But I wasn't out long. I woke up and the bass player's standing over me and I'm screaming at him: 'What the hell's wrong with you! Start the next song!'"
The point being that there's life in the old Loaf yet. Ten months later, he has bounced back by firing up Bat Out of Hell again, the musical juggernaut that has sold more than 35 million copies since its release in 1977, with the release of a live album and concert DVD on which he is accompanied by the Melbourne Symphony Orchestra. The show took place in February this year, eight weeks after his operation, but you'd never know it from the intensity of his performance.
Meat Loaf has agreed to conduct this, the only European interview he is doing to promote the releases, at his home in California; something of a rarity for a man who is intensely guarded about his private life. The inside of his house, though, is strictly off limits because of ongoing construction work. As is any talk about his current home life – he lives with his fiancée Deborah – or his 2001 divorce from Leslie Aday, his wife of 25 years with whom he has two daughters, Pearl and Amanda (respectively a singer and an actress).
We are warned that he is flighty, given to mood-swings. He reserves a particular disdain for UK journalists and is still smarting from a bad review from the night of his collapse. But when we meet, he seems extremely relaxed and in good spirits, if a little frail (he walks with a slight limp).
Meat lives an hour west of Los Angeles in an exclusive gated community, spectacularly ranged across 2,000 acres in a valley bordered by mountains. Real-estate brochures describe it as a "golfing community" whose main attraction is a country club with a course designed by Jack Nicklaus. Houses on the fairway start at $3 million. Modest in size for a star of his stature, Meat's house is set on a small hill and overlooks the green. There's a small pool and a patio with a lounge set. "I had it built specially," says Meat. "Tiger Woods holds a pro-tournament here every year. I can watch it without leaving the house."
Meat used to be a keen golfer himself but says he doesn't have much time to play now. In fact, he's only spent eight weeks at the house since he bought it last year. The rest of the time he's either been on tour or on movie sets.
Acting rather than music is Meat Loaf's greatest love. He has appeared in more than 40 mainly low-budget movies since the '70s but is probably best known for his roles as Eddie the brain-dead biker in The Rocky Horror Picture Show and Bob, the recovering cancer patient with "bitch tits" in Fight Club. He peppers his conversation with digressions about actorly concerns such as finding one's focus.
He has long maintained that the only way he is able to sing is to disassociate from himself by adopting a different character for each song. "I can't sing at all!" he mewls. "It sounds terrible until I put the scene together. It's like a monologue. I would create other people in the studio, project them from inside my head on to the wall."
Meat Loaf has a tendency to tell journalists wildly different versions of the same stories, as if the big ham in him can't help acting up, improvising new riffs on his life that lend it the same kind of mythic dimension as his music. You sense that the confabulations serve to provide some distance between the man and the persona. But, talking to him, at times it's hard to get a sense of where he thinks one ends and the other begins.
In person, he is far from the larger-than-life character of rock myth. His native Texan accent gives him the folksy manner of a Southerner. Bat Out of Hell composer Jim Steinman supposedly forbade him to talk on stage when they started to perform together, fearing that the illusion of the fearsome man mountain would be broken. At times he comes over all bashful, his voice crumples and he sounds a bit like Goofy. He even collects teddy bears. ("Only two of them are really special to me though. Their names are Mani and Marietta and they have feelings like you and me.")
Identity is evidently something quite fluid to him. He was born Marvin Lee, but his father called him Meat Loaf as a child because of his size, and the name stuck. Everyone calls him Meat. Even so, he changed his first name by deed poll in 2001 to Michael because he forever associates the name Marvin with a Levi's ad from his childhood with the slogan "Poor Fat Marvin Can't Wear Levi's".
He claims to have weighed 17 stone, his current size, when he was just seven. "When you weigh as much as I did as a kid, you become an outsider. That's where my fight comes from and my desire to prove people wrong."
He also had to contend with his father, an alcoholic former policeman. "He was not a good drunk," says Meat. Some of his earliest memories (as recalled in his 1999 autobiography, To Hell and Back) are of trawling bars in Dallas with his mother, a schoolteacher who sang in a gospel group that backed Bing Crosby on radio. He has said that all his positive attributes come from her. When she fell ill with cancer in 1967, his world collapsed. He ran away to Los Angeles aged 16, returning only when he found that she had died. One night after the funeral his father came home drunk and tried to kill him with a kitchen knife. (He made peace with his father on his death bed in 1972.)
He denies, perhaps a little too fervently, that the nervous energy that powers his performances – in music and on film – has any connection to the emotional turmoil of his youth. "Naah. No. No. Not a prayer. I dealt with all that way before that. Have never done that. Never will. I'm too analytical."
If anything defines him as a man, it is his resilience, his ability to bounce back (he was made bankrupt in the '80s when former managers sued him for breach of contract for $85 million).
The only way he can explain it is by returning to his obsession with bears. "I think about Winnie the Pooh a lot," he says. "But I never relate to Pooh because I'm not crazy about bees and honey and all that stuff. I'm always relating to Tigger. I'll have a heart attack, be lying in bed and go, 'Wanna play football? Let's go!'"
And at the final call, those boundless reserves of energy and emotion are the very thing that connects Meat Loaf the man to Meat Loaf the myth.
'Bat Out of Hell – Live with the Melbourne Symphony Orchestra' (Mercury) is out now as a CD or CD and DVD package.