Vampires Delayed
11/21/2002 - 00:00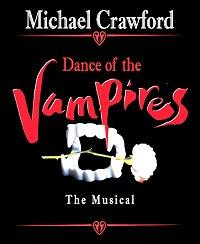 Dance of the Vampires, the new Broadway musical that was set to start performances tomorrow at the Minskoff Theatre, will now begin performances at the evening performance on Wednesday, October 16, according to a production spokesperson. The two-day delay is due to the extensive technical time needed for the show.
Set in Lower Belabartòkovitch, Transylvania, Dance of the Vampires, follows Count Von Krolock, a 19th century vampire whose passion is to win the soul and body of a beautiful 18-year-old virgin, Sarah; but, his un-deadly intentions are upset when a vampire killer arrives. The tuner features music and lyrics by Jim Steinman and a book by David Ives, Steinman and Michael Kunze.
Directed by John Rando and choreographed by John Carrafa, the show stars Michael Crawford, Max von Essen, Mandy Gonzalez, René Auberjonois, Ron Orbach, Leah Hocking, Liz McCartney, Mark Price and Asa Somers.
Despite this new setback, the show's opening date is still set for November 21.
Category
Dance of the vampires