What can we expect from "Bat out of hell" musical ?
10/11/2015 - 09:03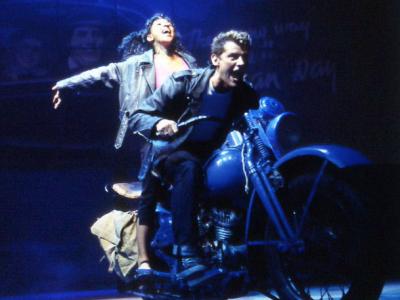 When Jim Steinman in 2006 sued Meat Loaf over the right to the phrase "Bat out of hell", the case ended with Meat Loaf getting the rights to use the title for recordings, while Jim got the rights to use it in the teater. Since then we have recieved varous news reports of a musical in progress. Originally reported as a "Cirque de soleil kinda spectacle" aiming for a London opening with book by Stuart Beattie, but later if was reported to be opening in Toronto with book by the man himself and Todd Rundgren directing "ridiculously big choral section". 
With last months announcement of a development lab production in New York, we get a glimpse of what we might expect. That the name of the gang is "the Lost" and one of the characters is called "Tink", does mak one think of Jim's old project "Neverland" which was descibed as a rock and roll version of "Peter Pan". It didn't make it past the workshop production in 1978, but included 3 of the songs from "Bat out of hell", so it does seem the an obvious way to go. The character Raven, who is daughter of the tyranic chief of police, but no longer willing to be locked down, make you think about "Tanz der Vampire". The dangerous "bad boy" Strat, makes you think of Amos from "Whistle down the wind" and obviously you can't have a "Bat out of hell" musical without a motorcycle.  That Raven is the daughter of the chief of police could mean some "West side story" style tension. A musical Jim is very fond of. The fictive setting descibed ad the city of Obsidion, could make you think of "Street's of fire". A movie which featured Jim's songs as an opener and the finale song. All in all the whole thing sound very Jim.
Even though Jim had considerable influence over "Tanz der Vampire" and "Whistle down the wind", this new musical venture will be all Jim's work and that can't be a bad thing.
Category
Bat out of hell - The musical