Garbo to Broadway ?
11/21/2002 - 00:00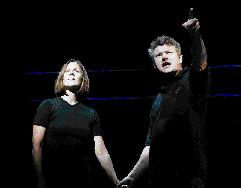 The production company behind "Garbo-the musical" are reportedly negociating with musical producer Barry Weissler about staging the musical on Broadway. Weissler, who has produced musicals like "Chicago" and "Annie Get your gun" had his asscociates attend the performance in Stockholm and as well as the audience, they liked what they saw.Producer Mikeal Hellqvist is even taking to other interested parties besides Weissler.
Hellqvist and the rest of the management, could certainly use the encouragment as sales on "Garbo" isn't going well."We are not sattisfied", the producer said, "It's not going the way we hoped".
The managment will decide this moth whether show is going to continue next year on not.
"We have 20 different marketing tools, which we will use next week",Hellström adds and maintains that ticketprices won't be cut.
Category
Garbo the musical