Meat Loaf interview
08/27/2005 - 00:00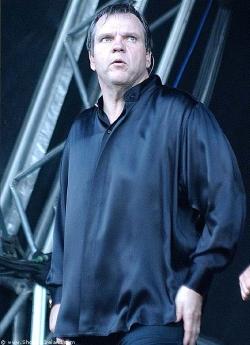 'Superstition, yeah. Like, you can't face two mirrors together. That's why barber shops went out of business,' he reasoned during a conference call with journalists in advance of his appearance at SPAC Monday night.
Among Meat Loaf's revelations, the biggest was that work has begun on the third installment of the 'Bat Out of Hell' musical saga. Michael Beinhorn, veteran of albums by Korn and Hole, is producing the work.
'Ÿ'Bat Out of Hell I' was produced by Todd Rundgren. He's completely out of his mind. 'Bat Out of Hell II' was produced by Jim Steinman -- he is completely insane,' said Meat Loaf about his previous pair of chart-topping issues, which were released in 1977 and 1993, respectively. 'Michael Beinhorn is as odd as the other two,' he said.
'Bat Out of Hell III' should be ready for release next summer, Meat Loaf said, adding that the work is still evolving, although he anticipates it to be a little edgier than previous 'Bat' albums.
One of the new tunes, 'Only When I Feel,' will be performed as part of the repertoire at Monday night's concert. His current tour is a jaunt which wasn't even supposed to happen.
'I didn't think I was ever going to do anything again,' said the performer whose illness-plagued 2003 tour earned him a number of hospital visits. There were four different bouts with the flu, intestinal surgery, a heart procedure and an incident that saw him burn his vocal chords during an event at a race track.
'I thought I was going to die,' he said. After taking 2004 off, he came to a new realization: 'I've got to get back on the horse.'
The current Hair of the Dog Tour -- a title inspired by his dog Angus --will stage a classic rock 'n' roll ensemble: 'Two singers, drummer, bass, two guitars, piano and me,' Meat Loaf said. 'It's an aerobic workout, is really what it is. It's my Jane Fonda video.' Pardon?
'Well, I've got a gym in my house,' he pointed out. And what does he do in this gym?
'I look at it. It's very nice,' he laughed. 'I mean I'm not pumping iron by any stretch of the imagination.'
Meat Loaf began his career sharing the stage with classic late 1960s bands like the Stooges, The Who and MC5. And while he mentioned a missed opportunity to appear in the film 'One Flew Over the Cuckoo's Nest,' his role as 'Eddie' in the movie 'Rocky Horror Picture Show' earned him notoriety among movie fans.
'When Tim Curry and myself went down to see the movie at The Waverly (in Manhattan), they wouldn't let us in. I said to them, 'Wait a second, this is Tim Curry -- the star of the movie.' But Tim didn't have his hair, and she goes: 'It doesn't look like him.'Ÿ
'Then I said, 'and I'm Eddie.' She goes, 'It really doesn't look like you,' because I was wearing a wig in the movie and now, I've got my hair down.'
Eventually, they managed to talk their way in, but not before the ticket taker delivered a final warning. 'She passes by me, leans over and goes: 'This...better...be... you,'Ÿ' he laughs, mimicking her stern skepticism. 'I was going, like, 'OK, yeah.'Ÿ'
Meat Loaf has had a respect for his audiences ever since.
'That's really what it is -- it's about putting blinders on and 'bam!' you just focus in on that. It's like tunnel vision. You have to care more about them than for yourself,' he said. 'And I care more about the audience than anything.'
That includes making sure the live show is filled with a number of crowd-pleasing favorites, some of which go back a generation.
'I think a good song is something that will take you somewhere. When you hear 'Bat Out of Hell,' you're seeing the people. With 'Paradise (by the Dashboard Light),' you're seeing them. And I love those. That's a song to me,' he said.
The show is the thing, he said. Audience satisfaction.
'I hope with what I do they leave happy. I hope they're exhausted, because I am. And I hope that they feel that what they paid for, they got.'