Green Day vs Meatloaf: Who's the real Punk Pavarotti?
11/07/2004 - 00:00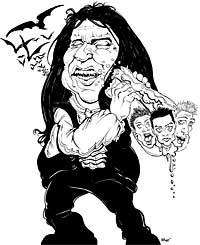 If we still cared about music in 1991, we'd have taken to the street with torches when Michael Jackson crowned himself "King of Pop" after recording an album as lame as Dangerous. And if we cared in 2003, we would've laughed Rolling Stone outta business for naming Justin Timberlake the "New King of Pop" for copying Jacko's dance steps but drawing the line at kiddie sleepovers. Now Ashlee Simpson is trying to bamboozle her remaining fans with a piss-poor excuse ("severe acid reflux") that prevented her from singing live on Saturday Night Live. (But the gastric gaffe didn't seem to affect her ability to vociferously blame her band for her warbling malfunction.) Who really cares? "Mission Accomplished" banners for everyone.
Hmmm … some of us with socks older than Hilary Duff remember a time when the Stones could print "The World's Greatest Rock and Roll Band" on their tour programs because they managed to prove that once in a while. When James Brown was "The Hardest-Working Man in Show Business" because none of us could ever imagine working ourselves into such a funky lather as he. When Gheorghe Zamfir could give an accurate accounting that he sold more records worldwide than ABBA and Boxcar Willie combined. It was a time when hyperbole meant something.
So when Green Day came back after a four-year hiatus and recorded an album where good songs weren't in the "Minority," you were probably so overjoyed you didn't even spit-take when they christened American Idiot "the first punk rock opera." This news probably came as a surprise to the Drive-By Truckers, whose Southern Rock Opera told the story of an Alabama kid who takes up punk rock before getting in touch with his inner Skynyrd and came out a good two years before American Idiot. And Pete Townshend could lay plausible claim he did invent the punk rock opera in 1974, when Quadrophenia predicted both the punk movement and boring old fartdom as well. But even he would have to concede there's nothing punk rock about an album with too many slow songs for synth and tuba.
That only leaves one credible critter to challenge that he was at the punk opera podium first and fattermost, the man The New York Times calls "Mr. Loaf." In 1977, the year punk rock peaked, Meat Loaf was hyperventilating to the oxygen-defying music of songwriter Jim Steinman, a man bent on asking the musical question, "So where d'ya want the kitchen sink?" over and over again.
As a public service, we now present the case for Green Day vs. Meat Loaf. Pound for pound, Billie Joe, Mike, Tré and a couple of Marshall stacks would level out a seesaw opposite the tubby tenor, but what about their "punk opera" albums? Which one's more punk? Which one's more opera? Which one has the higher body count? I gotta know right now before we go any further.
Which has the more coherent plot?
American Idiot focuses on a disenfranchised kid and his responses to the world around him both politically and socially. Take out the "soda pop and Ritalin" references and this could describe any KRS-One (or Andrew W.K.) album. As for story development, pulleeeze! Even "Escape (The Piña Colada Song)" had more plot twists.
While Bat out of Hell might sound like a guy trying to worm his way into some girl's Underoos seven different ways, it was originally written by Jim Steinman as a rock musical makeover of the Peter Pan story called Neverland. But the staging of the original show had to be revised when they could find neither a chain inconspicuous enough to hoist all 300 pounds of Meat in the air nor an audience brave enough to tremble beneath him. They had to settle for a more astonishing live visual aid — Mr. Loaf dressed in a prom tux chasing Karla DeVito around onstage as if she were the last lemon meringue pie on earth.
Which has the more character development?
In Round 2 against The Round 1, Green Day wins handily since American Idiot's three main slackers were given names: Jesus of Suburbia, St. Jimmy and Whatshername, the last of whom may bring the character count to four if someone can prove she married Whathisface.
There are no character names in Bat out of Hell's libretto beyond "boy" and "girl" and "Phil 'the Scooter' Rizzuto, the Voice of the New York Yankees." And overloading a recording with more musical personnel than USA for Africa and Artists Against Apartheid combined doesn't count.
Which punk opera has the higher body count?
All operas suffer bloody casualties and punk operas are no exception. The Grim Reaper goes away one for one here so it's up to you to decide who had the more punk rock demise. Is it St. Jimmy, who blows his brains out into San Francisco Bay, which makes him a polluter, or the Bat out of Hell biker, who spills his innards on the hot streets after an accident, only to see his still beating heart sprout wings to become the world's first three-dimensional tattoo?
Which one has the longest held note?
At the end of "Jesus of Suburbia," a triple-tracked Billie Joe extends the word "heart" for 10 seconds, sounding very much like three guys imitating a tenement door buzzer. At the end of the title track, Meat extends the word "hell" for a mere seven seconds, sounding very much like a guy who just realized his elevator has exceeded the maximum occupancy.
Which punk opera has more punk cred?
It stands to reason Green Day has accrued more punk rock cred for remaining a trio for more than a decade and for bringing punk to a whole new generation with Dookie. Of course, you might want to subtract said cred when you consider that it inspired scores of losers like Blink 182 and Simple Plan.
If you want punk brushes with greatness, on "Paradise By the Dashboard Light," Meat almost goes all the way with studio vocalist Ellen Foley, one-time girlfriend of The Clash's Mick Jones. But that punk cred quietly erodes when you also remember Foley was a regular on television's Night Court.
Which punk opera has opera cred?
Green Day programmed in two nine-minute medleys, lots of unison "hey" shouts reminiscent of Handel's Messiah and plenty of Wagnerian strum and drag. But c'mon, when have you ever heard anyone say, "It ain't over till the skinny guy scowls"? What's more operatic than 300 pounds of beef stewing beneath a cummerbund, mopping his forehead with a red handkerchief and yelping like he accidentally inhaled Mario Lanza?
Which punk opera might make the greatest contribution to rock?
American Idiot may not be the first punk rock opera, but it's certainly the first one selling "punk rock opera" mobile phone ring tones. You boys must be very proud. American Idiot may prove doubly important for finally ridding the world of Green Day-parroting punk bands like Good Charlotte. If Green Day prevails and nine-minute medleys become punk's future, the band's imitators will then be forced to write eight times as many 60-second tunes per album. Hoo-fucking-ray!
With Bat out of Hell, Jim Steinman continued the mating of Phil Spector teen dreams with Wagnerian bombast, something Bruce Springsteen discontinued when producer Jon Landau slapped him into a Stanley Kowalski stupor. Steinman even enlisted E Streeters Max Weinberg and Roy Bittan to flesh out the faux "Jungleland" rock. But Bat's greatest contribution was making clichés more repetitive than they were the first time around with the songs "Two Outta Three Ain't Bad," "For Crying Out Loud" and "You Took the Words Right Outta My Mouth." This innovation spawned countless copycat hits such as Pat Benatar's "Hit Me With Your Best Shot," Billy Ocean's "When the Going Gets Tough, the Tough Get Going," Green Day's own "Good Riddance" and, of course, Selena's "Lavese Los Manos Con Jabón."