A numbers man who counts four-four time on piano
11/07/2004 - 00:00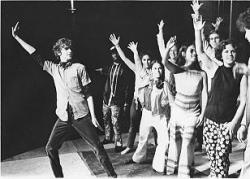 Eric Kriss, Newton resident and Mitt Romney's chief budget guru, may best be known in Massachusetts political circles for a controversial remark he made last year, telling the Greater Boston Chamber of Commerce the state's fiscal health won't be solved until there's a balance between "givers and takers," citing an increase in Medicaid recipients.
But about 35 years ago, Kriss and a number of friends from college thought another "statement" would have drawn them the public spotlight.
While attending Amherst College in the late 1960s, the future Secretary of Finance and Administration met Jim Steinman, a student a two years his senior who was putting the final touches on rock opera he had written. The show, titled "The Dream Engine," was generating a buzz in Amherst, and Kriss, as a member of the supporting band, was drawn into the excitement.
"It was going to be the biggest hit of all time. It was going to blow 'Hair' away," said Kriss, recalling his youthful enthusiasm for the project.
The musical attracted the attention of Joseph Papp, a Broadway producer and founder of the New York Shakespeare Festival, who approached Steinman to bring "The Dream Engine" to the bright lights of 42nd Street. In short order, Kriss, Steinman and the rest of the band dropped out of school for the Big Apple, spending months on nonstop rehearsals. The show was promoted in ads in the New York Times, and theater devotees gossiped about the show's controversial content, which included some public nudity.
But, in an event that would change the course of Kriss' life, the show was cancelled on the eve of its debut. Kriss attributes the sudden cancellation to a fight between Steinman and Papp, though others said it was due to the show's explicit content.
"That was really the road not traveled," Kriss said. "If it had gone on, it would have been a smash hit ... I'd probably be a musician today."
Steinman would later realize the success that eluded them that night; "The Dream Engine" became the basis of Meatloaf's 1977 album "Bat Out Of Hell," and Steinman would also later pen classics such as Bonnie Tyler's "Total Eclipse of the Heart" and Air Supply's "Making Love Out of Nothing at All."
But for Kriss, the road to rock stardom was detoured some 35 years. After taking the remainder of the semester off, he returned to Amherst and finished his degree. Although he would later produce a Grammy award-nominated blues album a few years later, Kriss was drawn into the world of finance and management, with dreams of working as an executive for CBS Records.
But after graduating from the University of Chicago's School of Business, Kriss came to Boston in 1978 to join Bain and Co., a small consulting form, where he met a young Mitt Romney. Five years later, Kriss left the firm with Romney to become one of the founding partners of Bain Capital, a private investment firm.
"I thought it was a great entrepreneurial thing to do," Kriss said. "I ended up focusing on running companies Bain invested in."
The first company Bain Capital invested in was Metivision - "the largest network of eye surgery [facilities] in the country," Kriss said - where he served as the company's chief executive officer while Romney chaired the company's board.
The experience spurred Kriss onto a new path, far from the music halls and recording studios. He ran (and occasionally founded) a number of other companies over the next 25 years, including a health-care information company, a high-tech company and even a floundering lingerie manufacturer in China.
When Romney won the gubernatorial race in 2002, he asked Kriss, who had also served in the Finance and Administration office under William Weld's tenure, to join his administration.
But Kriss' love of music - particularly jazz and the blues - never diminished. He has published several books on music instruction, and earlier this year released his first solo album, "Initial Public Offering," his first venture into a recording studio in more than a quarter- century.
"I had been playing in my living room all this time," Kriss said of his all-instrumental CD. "I wanted to pull all this together for something like an album, but I never quite got there. For whatever reason, I said [last year] if I don't do this now, I'm never going to do it."
Kriss insists he keeps his public working life and his music interests separate, and doesn't mix the two. But he concedes some tracks have a political overtone. One track on the album, titled "Beacon Hill Jam," is a triple entendre, Kriss said.
"I drive to work, and I have to drive up to Beacon Hill, through the traffic jam," he said, also noting the use of the word "jam" as a musical term and in the sense of political logjams were not missed.
But on Amazon.com, an online book and album wholesaler, Kriss' album drew a couple of anonymous, volunteer reviews, whose critiques were clearly more political than musical in nature.
"I thought there were supposed to be over 1 million takers in this commonwealth," one reviewer wrote under the name Willard Milton. "But I can't find one to take this CD. Don't quit your day job ... on second thought, maybe you should."
"So bad even 'the givers' couldn't abide [sic] this piece of garbage," another wrote.
"It's just political rhetoric," Kriss insists dryly. "Although many feel that art is political, I'm just interested in good music."