It's eclipse time again
08/19/2017 - 07:41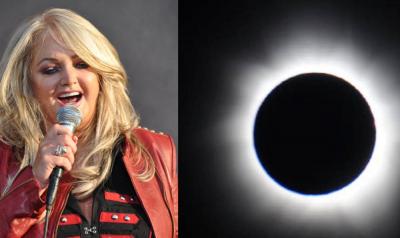 On August 21th 2017 a rare total solar eclipse will be visible in the western hemisphere and according to tradition this will mean a surge in the plays of songs with an eclipse theme, most notably the most famous of them all, the iconic Jim Steinman classic "Total eclipse of the heart" sung by Bonnie Tyler. According to Spotify plays of the song increased 75% during the last eclipse in 2016 and that wasn't even a total one. Spotify has even created a playlist for the event full of songs with a eclipse theme, of course starting and ending with Tyler.
Bonnie Tyler will even perform the song live during the Eclipse on Royal Caribbean's Total Eclipse Cruise on Oasis of the Seas. Talk about a one-in-a-lifetime experience !
Optician chain Warby Parker wants to ensure that everybody has a set of special eclipse watching protective eye classes, so they have made a funny version of the song, which you can see in the media section of this site.