Cast of Dance of the Vampires Shapes Up
06/23/2002 - 00:00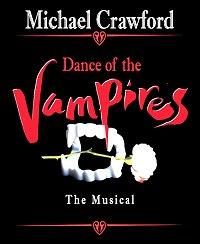 Broadway.com has learned that Max von Essen and Mandy Gonzalez are in negotiations to star with Michael Crawford in Dance of the Vampires. René Auberjonois, Julia Murney and Ron Orbach are also likely to appear in the musical.



"I saw the show in Vienna," von Essen told Broadway.com. "The score is totally incredible. It's pop meets opera meets rock. I didn't understand a word of it over there, but I remember loving the music. My role, Alfred, is such a great role—it's really made for me vocally and dramatically."



Von Essen previously appeared on Broadway in the ensemble of Jesus Christ Superstar. He will likely be the only cast member remaining from the English language Dance of the Vampires workshop. (That workshop, which was helmed by John Caird and composer Jim Steinman, was done before new director John Rando came on board.) Before he hits the Great White Way, von Essen can be seen as Freddy in the Paper Mill Playhouse production of My Fair Lady June 5 through July 21. "I have been wanting to work at Paper Mill for years," von Essen said. "The roles [of Alfred and Freddy] are kind of similar. Freddy is a much smaller role, but he is young, lovesick and romantic, which is a lot like Alfred."



Gonzalez is probably best known for her Obie Award-winning performance in last season's off-Broadway production of Eli's Comin'. She is currently in the Aida ensemble and serves as a standby for the role of Amneris. In Dance of the Vampires, Gonzalez will play Sarah, a beautiful girl caught between her love of Alfred (von Essen) and her desire for Count Von Krolock (Crawford). "She is amazing," von Essen raved about his onstage love interest. "In callbacks we were singing the duet together and my ears were ringing. She has one of the best voices I have ever heard."


Auberjonois won a 1970 Tony Award for Best Featured Actor in a Musical for his work in Coco. His other Broadway credits include The Good Doctor, Big River and City of Angels, all of which earned the actor Tony Award nominations.



Despite the fact that she already appears on RCA Victor's Broadway Divas recording, Dance of the Vampires will actually mark Murney's Broadway debut. She is best known for her work in the off-Broadway musicals The Wild Party, A Class Act and Time and Again.



Orbach was previously seen on Broadway in Laughter on the 23rd Floor. Dance of the Vampires will be his first Gotham stage appearance since he left The Producers and was replaced by Brad Oscar.



Dance of the Vampires, featuring music and lyrics by Steinman and a book by David Ives, Steinman and Michael Kunze, is scheduled to begin performances at the Minskoff Theatre on October 14. A spokesperson for the musical could not confirm any of this additional casting. He said only: "It's premature to comment on any casting beyond Michael Crawford at this time."
Category
Dance of the vampires