Gunilla Backman om Garbo
06/23/2002 - 00:00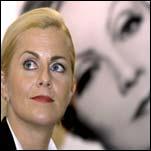 Gunilla Backman strålar och ler. Det blir hon, en i Sverige relativt okänd musikalartist som får gestalta Den Gudomliga när Greta Garbos liv blir musikal.


- Jag känner i mitt hjärta att det är fantastiskt att få spela henne, säger hon vid en presskonferens där de fyra huvudrollsinnehavarna presenteras.



Arbetet med "Garbo - the musical" har redan pågått i många månader. Den amerikanska regissören Scott Faris har varit i Sverige och valt ut den 28-man stora ensemblen, allt från dansare till Greta Garbo själv. Nu är rollbesättningen klar och repetitionerna kan börja.



Gunilla Backman har arbetat i Londons West End de senaste fyra åren och varit med i "Miss Saigon" och "Les misérables". Vid sin sida har hon idel välkända namn, i rollen som Greta Garbos väninna, och kanske älskarinna, Mercedes de Acosta, finns Petra Nielsen, nyss hemkommen från Broadway. Dan Ekborg, som tvingades hoppa av Stadsteaterns Garbo-musikal på grund av familjeskäl, spelar Mauritz Stiller. Och Malena Laszlo, senast i "Cabaret" på Dramaten, spelar Greta Garbos bästa väninna som även hon ville bli filmstjärna.



Över 700 sökte till rollerna och Petra Nielsen var den enda som fick någon förtur på grund av sina meriter. Hon blev tillfrågad redan för ett och halvt år sedan och tackade ja, men hon ville inte spela Garbo:
- Nej, det känns inte som jag, säger hon och sveper med armen mot de bilder på Garbo som satts upp på väggen.



I stället har Gunilla Backman fått den svåra uppgiften att gestalta en av filmhistoriens mest mytomspunna skådespelerskor.
- Ja, det är mäktigt att spela någon som är så mytomspunnen. Men just nu känns det bara roligt att göra research kring henne. Jag kan bara göra mitt bästa, säger hon.



- Alla de här personerna har ju funnits och det är roligt att få gå in i människors liv, säger Petra Nielsen.



Manusförfattaren Warner Brown har fått tillgång till unikt material från Greta Garbos släktingar i New York och hoppas kunna ge några nya svar på gåtan Garbo, någon ny förklaring på varför hon lämnade rampljuset. Det ska handla om Greta Garbos liv som filmstjärna men också om hennes privata relationer. Och på något sätt ska de förhålla sig till Gretas relation till Mercedes de Acosta.



- Det är ju sådant som är det smaskiga, säger Petra Nielsen med ett stort leende.



"Garbo the musical" innehåller såväl nykomponerad musik av Jim Steinman, som skrivit mycket åt Celine Dion, som dans och talscener. I september har den världspremiär på Oscarsteatern i Stockholm, men redan om en månad släpps biljetterna. Och ambitionen är att nå ut med den i världen.



- Både vi i teamet och Greta Garbos släktingar hoppas kunna sätta upp den på Broadway lagom till hennes 100-års dag 2005, berättar producenten Mikael Hellqvist.
Category
Garbo the musical
source
Text: Jenny Aschenbrenner/PM