Garbo-musikalen kan gå på export
11/27/2002 - 00:00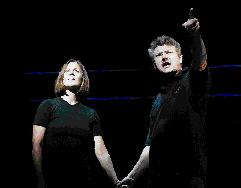 "Garbo – the musical", som spelas fem dagar i veckan på Oscarsteatern i Stockholm har väckt stor nyfikenhet utomlands.
Det är dessutom inte vilka personer som helst som vill titta närmare på den svenska uruppsättningen om landets kanske mest berömda filmstjärna någonsin.
Om två veckor kommer producenter från både Broadway och West End att sitta i salongen.
– Ja, det stämmer. Det finns ett enormt sug efter nya musikaler i USA och England. Där är de ständigt på jakt efter spännande projekt att sätta upp. Och jag tycker verkligen att det vi åstadkommer på scen är fantastiskt, säger "Garbo the musical"-regissören Scott Ferris.
Engelsk version nästa år?
Exakt när det kan bli aktuellt att förvandla originalversionen till en amerikansk och en engelsk variant är i dagsläget inte klart. Med lite tur kan det dock ske redan nästa år.
– Historien om Garbo är så speciell. Vi försöker ge en känslomässigt gripande bild av den och det känns som att publiken tagit vår berättelse till sina hjärtan, säger Scott Ferris.
Men inte nog med det. Det diskuteras även att föreviga musikalen på cd. En av dem som finns med i arbetet kring utgivningen är Jim Steinman, tidigare bland annat Meat Loafs framgångsrika "Bat out of hell".
– Det kan komma att bli allt från att samtliga sånger ges ut, till att vi väljer en eller ett par låtar och släpper dessa på singel i USA, säger Scott Ferris.
Av LARS JOHANSSON
Category
Garbo the musical