A musical with bite
03/27/2005 - 00:00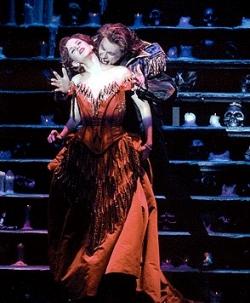 The final phase in casting for Dance of the Vampires-a new production by the Roma Theater-took place March 14. It was attended by Roman Polanski, the artistic patron of this large musical project. Throughout the day, he auditioned vocalists selected in previous castings by Cornelius Baltus, the project's director.
Polanski focused primarily on the two main characters-the innocent Sara and vampire prince Krolock, who attempts to seduce the heroine. Seven years ago, the song performed by the duo ("Total Eclipse of the Heart") captivated the first viewers of the show and landed on hit charts around the world. The Polish version ("Na orbicie serc") at Roma was sung by a few couples in different configurations. A few days later, the director cast Malwina Kusior as Sara, while granting the part of Krolock to £ukasz Dziedzic. Other cast members include: Alfred-Jakub Molêda, Magda-Dominika Szymañska, Rebeka-Gra¿yna Strachota, Abronsius-Robert Rozmus, Chagal-Wojciech Paszkowski, Herbert-Jakub Wocial, Kukol-Jakub Szyd³owski.
Polanski was committed to the Warsaw preparations to Dance of the Vampires, certainly encouraged by an earlier success in Hamburg. Polanski gave a lot of advice to the actors during the auditions. "He said Krolock should manifest his passion and desire gradually," said Malwina Kusior, who plays the female lead Sara. "The feelings grow in both characters, but they can be fulfilled only when the Ball is over."
Polanski was reluctant to speak about the show, but complimented the Polish artists: "Today is a very important day. I have been to many such gatherings before and I must say I am pleasantly surprised with the talent of these young people." Asked about the differences between movies and musical theater, he said the latter should communicate much more emotion and humor.
Roma's director, Wojciech Kêpczyñski, is worried by tepid interest from sponsors, particularly since Dance of the Vampires is the most expensive production in the theater to date at a total of zl.3 million (Miss Saigon had a budget of zl.2.2 million, Cats-zl.2.5 million). Moreover, the production will require redevelopment of the stage and audience seating. Rehearsals start Aug. 1. The premiere is scheduled for Oct. 1, but ticket reservations are already available
Category
Tanz der vampire