"Whistle" review
06/23/2002 - 00:00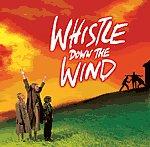 In my humble opinion, the biggest mistake Sir Andrew Lloyd Webber ever made was losing Sir Tim Rice as a lyricist. Since they parted ways after Evita back in the early 70s, ALW's work has never been the same since, mainly due to the cringesome banality of the lyrics he's used. I mean, Richard Stilgoe, for crying out loud??
But with 'Whistle Down The Wind', he is given a chance to redeem himself, by teaming up with none other than epic musical and lyrical genius Sir Jim Steinman (actually I don't think Jim Steinman is a Sir – but he bloody well should be), he of 'Bat Out of Hell' and 'Total Eclipse of the Heart' fame, and – in my opinion anyway, and I'm the one writing this review – one of the finest, most inventive, witty and twisted lyricists of the 20th century.
Somehow I can't quite imagine two such monstrous egos as ALW and Jim Steinman working together in perfect harmony, but perfect harmony is exactly what you get. Okay, so 'WDTW' is never going to reach the dizzy heights of 'Jesus Christ Superstar' (which is a work of genius, and anyone who doesn't think so is wrong) or 'Bat Out of Hell' but it comes fairly close. In fact, in places it sounds exceedingly like both of those musical masterpieces, especially at the start of the second act, when you almost expect Meat Loaf to leap onto the stage and burst into song. Clearly Lloyd Webber has been taking lessons from the king of melodramatic rock. The show's themes of small town boredom, midnight rendez vous and religious ecstacy are all Steinman favourites (think 'Peel Out', 'Paradise By The Dashboard Light' and 'Heaven Can Wait' for starters), and at times Steinman even nicks lines lock stock and barrel from his old songs – 'Tyre tracks and broken hearts, we're gonna leave 'em behind' sound familiar to anyone?

Of course, the plot is a little hard to swallow (ha ha): set in the bigoted world of the Deep South of the 1950s (not that you can tell from the decidedly dodgy accents everyone sports) a 15-year-old girl (called Swallow... geddit?) finds an escaped convict hiding out in her barn and thinks he's Jesus. Obviously. However, daft as it sounds, you somehow find yourself swept up in the plot, the music carrying you inexorably on as the tale unfolds towards a tear-jerking conclusion.


The music is wonderfully catchy and at times spine-tinglingly beautiful, and there can't have been anyone there who didn't come out humming the tune to 'No Matter What' (which, incidentally, sounds nothing like the lame Boyzone rendition).


Strong songs, convincing sets and a very proficient ensemble cast (including a dozen or so exceedingly well-drilled kids, who sing their little hearts out, bless 'em, whilst at the same time managing not to be overly mawkish) all add up to make 'Whistle Down The Wind' a quality theatrical experience. Prepare to laugh, prepare to cry, prepare to be entertained.


written by: Mo Jousey