Jim Steinman off "Bat III"
08/06/2005 - 00:00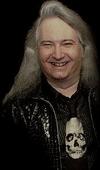 There's been a changing of the guard on Meatloaf's Bat Out Of Hell III album. Collaborator Jim Steinman is still involved as the songwriter, but Meatloaf told us that they're using a different producer for the album:
"Michael Beinhorn is producing, and Jimmy's (Steinman) writing. Jimmy has just...he had some health issues, and (he's) really physically not up to par to sit in a studio for a long time and do it. So Michael Beinhorn is going to produce and Jimmy's writing."
Beinhorn, a former member of the '80s group Material, has produced albums for Soundgarden, Red Hot Chili Peppers, Marilyn Manson, Hole, Ozzy Osbourne, Herbie Hancock, and others.
Todd Rundgren produced Bat Out Of Hell in 1977, while Steinman produced 1993's Bat Out Of Hell II: Back Into Hell.
Meatloaf says he expects Bat Out Of Hell III to be released in 2006.
He begins a three-night stand on Friday, August 5th at the Beacon Theatre in New York City.