Meat Loaf No Longer "Bat" Crazy
08/05/2006 - 00:00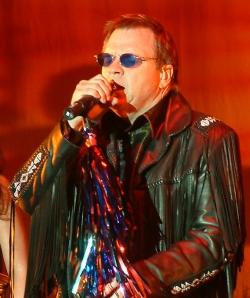 The Grammy-winning rocker has resolved the $50 million lawsuit filed last month against longtime songwriting partner Jim Steinman over trademark rights to the Loaf's signature album title.
"It resolved itself very quickly because neither one of us wanted to argue," the 59-year-old singer, whose real name is Marvin Aday, told Reuters. "There's a mutual love and respect there.
"We're not going to have a knock-down brawl. We just have too much history."
The rocker filed suit against Steinman, who penned the epic '70s ditty "Bat Out of Hell" and the other songs on the monster-selling album of the same name, for wrongfully trademarking the phrase back in 1995. While Meat Loaf acknowledged the fact that he hadn't actually come up with the signature four words, he had used them extensively for 29 career-spanning years and argued that the phrase's legal association should be with him, not Steinman.
Incidentally, the rocker didn't appear to have a problem with his creative partner's 11-year-old trademark until the two had a falling out when, according to Billboard, Steinman failed to receive a producing credit on Bat Out of Hell III: The Monster Is Loose, due out Oct. 31.
After the professional snub, Steinman allegedly threatened to exercise his exclusive hold on the phrase by refusing to release the rights, an act that would have held up distribution of the Loaf album.
But the inability to use the phrase would have done more than crippled the rocker's upcoming release--it would have brought his entire empire to a halt.
The veteran singer's claim that he had ties to the phrase for the duration of his career is, if anything, an understatement. The phrase practically is his career.
In addition to the song "Bat Out of Hell" and its eponymous album, Meat Loaf also released Bat Out of Hell II: Back Into Hell in 1993. The two albums have sold more than 45 million copies.
The phrase also provided the name for various concert tours, recordings, videos and merchandise under the Meat Loaf brand.
The rocker and his songwriter, however, have since put the dispute behind them, with Steinman contributing seven songs for Meat Loaf's new album, including "It's All Coming Back to Me Now," made famous by Celine Dion but written to be included on the original Bat Out of Hell.
"Sometimes there's just disagreements that in business two people can't settle, so you just need to involve other people...you always hate to see it get to that," the performer told Reuters.
And to ensure those fences remain mended, Meat Loaf sang his collaborator's praise at a recent nightclub gig.
"If it was not for Jim Steinman and his brilliance and his ability to turn a phrase and his concepts, we wouldn't be here tonight," he said. "He really liked the record, that's really important to me. We tried to show him as much respect and loyalty as we could...It's his concept to do Bat Out of Hell III."
Still, despite the fact that he is now apparently welcome to use the phrase, the rocker hedged on whether or not he would release a fourth installment to the album franchise.
"I don't know how anybody could live through it," he said. "I don't think I have the time, I don't think the years will allow it."